(Full Post) The June 7th California primary midterm election is coming up real soon. Are you ready to vote? Check your voter status online: registertovote.ca.gov After you've checked your status and you're ready to vote, head over to ballottrax and sign up to track your ballot! Make sure to register before May 23rd!
Las elecciones primarias de mitad de período de California son el 7 de junio y se están acercando pronto. ¿Está preparado para votar? Verifique su estado de votante en línea: registertovote.ca.gov ¡Después de que usted haya comprobado su estado y esté listo para votar, diríjase a balottrax y firme para rastrear su boleta! Asegúrese de registrarse antes del 23 de mayo.
---
What's your vote plan for the California primary midterm election? Use our 4-point checklist to ensure that your ballot is cast and counted:
✅Check your registration status! Make sure you are registered by visiting voterstatus.sos.ca.gov. If you are not registered, register at registertovote.ca.gov.
✅Make a vote plan! Make sure you and your family have a plan to vote early to ensure your vote is counted.
✅Learn what's on your ballot! Read your voter guide to learn more about the candidates and what they stand for.
✅Track your ballot! After you vote, make sure it gets to the elections office on or before June 7th! Visit california.ballottrax.net/voter/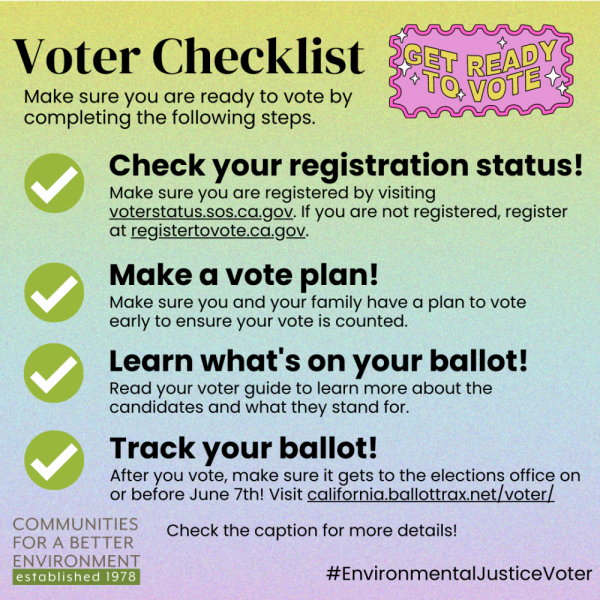 A partir del 9 de mayo, todos los votantes registrados en California recibirán una boleta de voto por correo. ¿Cómo está devolviendo su boleta? ¡Asegúrese de firmar y sellar su boleta y luego puede devolverla de cuatro maneras!:
1. Por correo (no se necesita sello!)
2. En un lugar de votación.
3. En una urna oficial.
4. En la oficina de Elecciones del Condado.