(Full post)Join our team! Hiring 3 Wilmington Outreach interns!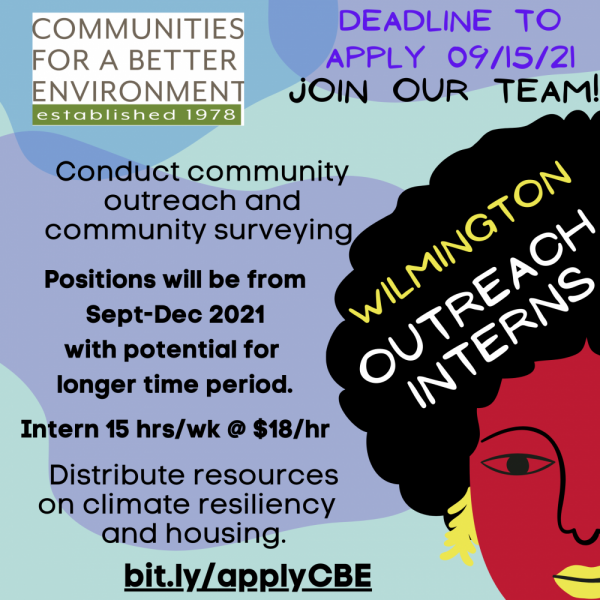 GENERAL POSITION SUMMARY
Outreach interns will work with community to build connections across climate adaptation, housing, and utility assistance. This will include in-person tenant outreach, connect people with housing and utility assistance resources via phonebank and text, distribute resilience kits, and conduct community surveying on climate adaptation needs. Outreach will occur in the Harbor Area communities including Wilmington, Harbor City, Carson, San Pedro, etc.  This is a temporary and part-time position beginning in September-December 2021.
Deadline to apply is Wednesday, September 15th. Expected start date is Monday, September 27th. Rate of pay is $18 per hour and 15hr/wk
Apply at bit.ly/applyCBE

¡Unete a nuestro equipo! ¡Contratando a 3 Promotorx para Wilmington!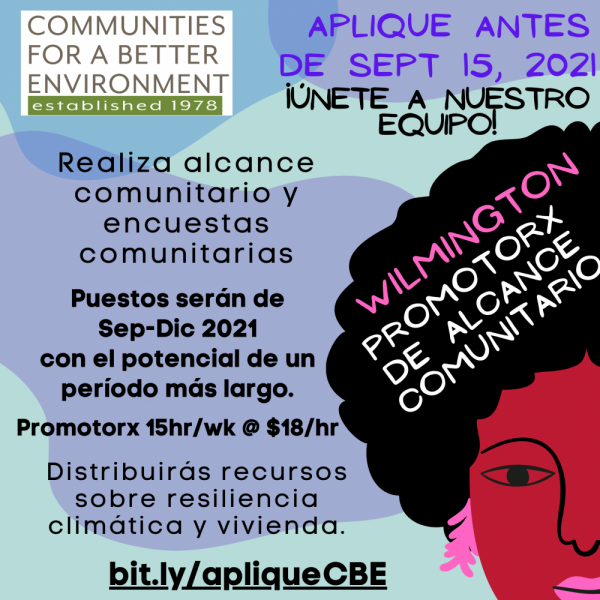 RESUMEN DEL PUESTO GENERAL: Promotorxs trabajarán con la comunidad para construir conexiones a través de la adaptación climática, la vivienda y la asistencia de servicios públicos.  Conectará  inquilinos a talleres de derechos y ayuda legal y a las personas con recursos de asistencia de vivienda y servicios públicos a través de llamadas teléfonicas y mensajes de texto, distribuirá kits de resiliencia y realizará encuestas comunitarias sobre las necesidades de adaptación climática. El alcance se llevará a cabo en las comunidades en la area de Harbor: Wilmington, Harbor City, Carson, San Pedro, etc. Este es un puesto temporal y de medio tiempo a partir de septiembre-diciembre de 2021.
Aplique antes del miércoles 15 de septiembre. La fecha para comenzar es el lunes 27 de septiembre. Debido al tiempo parcial de este puesto, no podemos ofrecer beneficios o vacaciones. El sueldo es $18 por hora. 15 hora por semana.
Aplique :bit.ly/apliqueCBE