We represent heavily polluted communities throughout the State of California. Our communities border oil refineries, gas-fired power plants, industrial farming operations, fossil fuel extraction facilities, waste processing centers, ports, transportation corridors and other polluting operations. These cumulative sources of pollution cause a wide range of adverse health outcomes in working class communities of color. Our communities share a common fence with facilities and operations that emit toxins, foul smells, and noise and cause nuisance impacting people's quality of life at all hours of the day and night.
Equity Principles for Hydrogen – Read our Environmental Justice Position on Green Hydrogen in California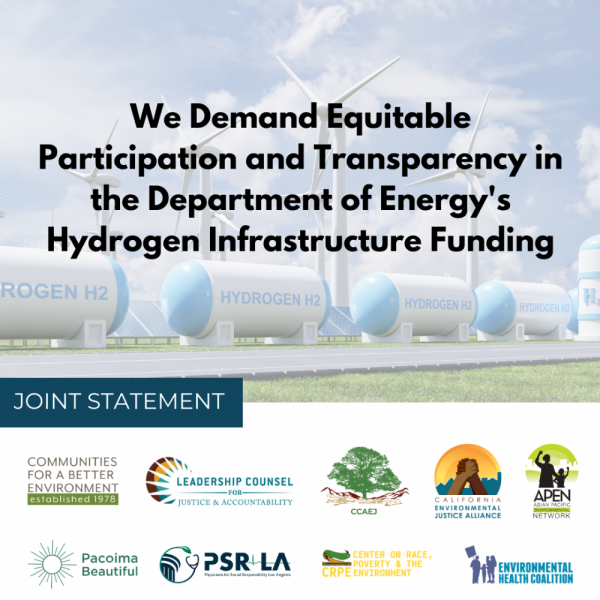 The State of California intends to expand the use of hydrogen as a fuel, and to this end, we offer these guiding principles, which are essential to respect and protect our communities. The following principles represent our collective values and positions to support communities as hydrogen energy is utilized across the state

These principles were developed in ten workshops and learning sessions for environmental justice partners across California between March and September of 2023. The learning sessions examined the current science, including risks, benefits, and unknowns, and shed light on each stage of the hydrogen cycle, including production, delivery, storage, and use. The workshops allowed our organizations to discuss different perspectives, build consensus, and reflect on how hydrogen may impact our communities.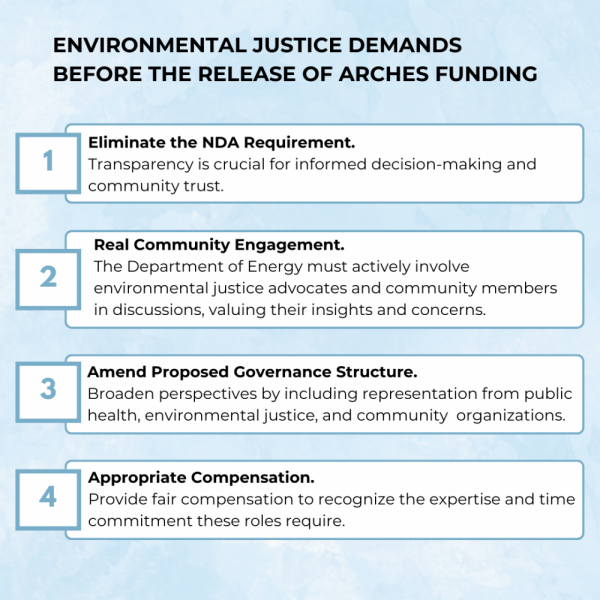 We adamantly oppose all non-green hydrogen proposals and projects. We insist that new projects protect communities first and do not perpetuate the injustices that polluting infrastructures impose on fence-line communities today. Each stage of the hydrogen life cycle—production, delivery, storage, and end use—can present unique risks and harms to environmental justice communities and to all Californians. Discussions about building new green hydrogen infrastructure must involve the community, and its members should be meaningfully engaged. Siting green hydrogen infrastructure should also take into account the cumulative impacts of environmental justice communities and the risks associated with hydrogen.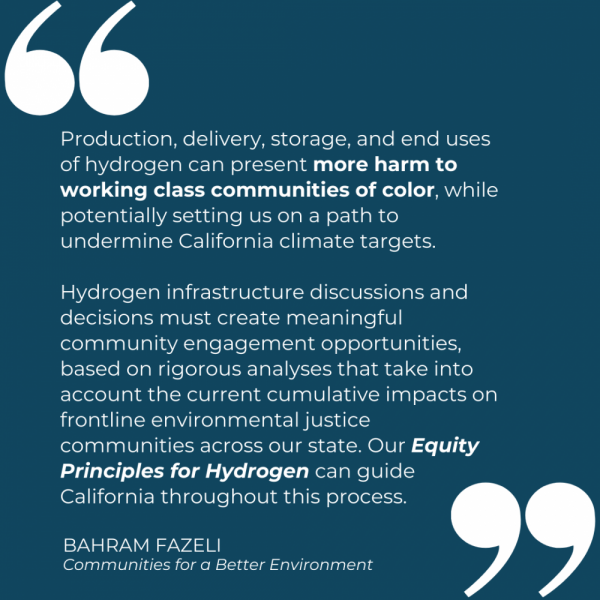 For more information, contact Bahram Fazeli, Director of Research and Policy at bfazeli@cbecal.org or call 323-826-9771 Ext. 100