CBE has combined community organizing, scientific research and savvy legal strategies to win victories around California.
Wins Against the Oil Industry
Richmond, on California's San Francisco Bay, has one of the highest child asthma rates in the nation.  A concentration of petrochemical pollution sources includes a massive Chevron refinery.  In 2008, Chevron moved to expand the plant to refine dirtier grades of crude oil—which would have skyrocketed local pollution levels, and established a dangerous trend for the entire oil industry.  CBE and allies out-organized the oil giant and won—with packed public hearings, savvy legal work, an effective media effort, a strategic electoral victory, and policy advocacy at the state capitol.
Residents of Wilmington, a community near the immense Ports of Los Angeles and Long Beach, daily experience pollution and its health effects. Wilmington neighbors breathe unhealthful air created by port traffic and oil refineries. One refinery pollution source, "flaring"—open-air burn-offs of oil plant  gases—releases natural gas, propane, ethylene, propylene, butadiene and butane. CBE grassroots campaigns and litigation won the most stringent refinery flaring regulations in the nation. The communities' voices and pressure were essential to moving the Air Quality Management Districts in both Southern California and the Bay Area to pass the flaring measures.
CBE won settlements requiring virtually all California oil companies to clean-up over 700 sites contaminated with the toxic gasoline additive MTBE. The case also helped build political momentum that resulted in a state-wide ban of MTBE.
In 1998, CBE organized residents in Santa Fe Springs in order to prevent televangelist, Pat Robertson, from reopening CENCO, one of California's dirtiest oil refineries. CBE's legal team won an injunction against Robertson based on the federal Clean Air Act.
CBE Stops a Giant Power Plant
Vernon, an industrial city just south of downtown Los Angeles, boasts fewer than 100 residents, but lots of heavy-duty industry—from metal plating to animal rendering. The accumulation of emissions affects the environmental health of nearby communities: Huntington Park (where CBE has an office,) Maywood, Boyle Heights.  In 2007, local officials planned to site a 943-megawatt power plant in Vernon—an addition that would have added 1.7 million pounds of chemical emissions and fine soot particles (linked to cases of cancer, heart disease and other illnesses) to the pollution in Southeast LA, along with 2.5 million pounds of greenhouse gases. A massive CBE-led community mobilization plus litigation killed the proposal in 2009.
CBE Moved a Mountain of Noxious Rubble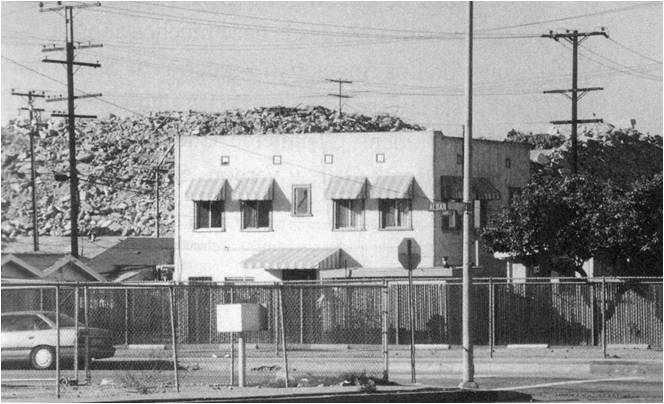 After LA's Santa Monica Freeway collapsed during Southern California's 1994 Northridge earthquake, the clean-up operation dumped a mountain of the resulting concrete debris in a low-income, majority-Latino community southeast of downtown LA. The neighbors in Huntington Park took action when the dust from "La Montana" made them sick. CBE led a winning campaign; in 1996, La Montana was deemed a public nuisance and the mess ultimately cleared away.  Now, Linda Esperanza Marquez High School, named for the local leader who helped rid the community of "La Montana," is under construction at the site.
Other Major Victories
With allies throughout the state, CBE won precedent-setting environmental justice policy recommendations adopted by the California Environmental Protection Agency which promote the precautionary approach, cumulative impact analysis, pollution prevention and public participation.
CBE stopped two chrome plating facilities from emitting highly toxic chromium VI next door to Suva Elementary and Middle Schools in the city of Bell Gardens where over 25 students and teachers had died from cancer, and where high miscarriage rates occurred among teachers. We also successfully strengthened chromium VI emissions standards and notification laws for toxics near schools to prevent such tragedies from happening in the future.
CBE successfully persuaded the San Francisco Health Department and the San Francisco Public Utilities Commission to post multilingual health warnings at fishing piers and to fund testing of fish contamination.
Those are just a few of the victories Californians and Communities for a Better Environment have won for environmental justice—and the fight goes on!