September 14, 2021: Gubernatorial Recall Election (Statewide)
Vote by September 14, 2021! Vote early and vote safe!
A statewide election to recall Governor Gavin Newsom is set for Tuesday, September 14, 2021.

Vote-by-mail ballots were sent by the County elections offices beginning August 16, 2021.
There are two questions on the ballot:

1) "Shall Gavin Newsom be recalled (removed) from the office of Governor?"
This ballot question has two choices to choose from, either "No" or "Yes."
"VOTE NO", if you want Governor Newsom to remain as Governor.
"VOTE YES", if you do not want Governor Newsom to remain as Governor.
2) "Candidates to succeed Gavin Newsom as Governor if he is recalled"
This ballot question list 46 candidates. Those that voted No or Yes to the first question may still vote for any of the candidates listed.
There is an option to write-in a candidate. In order for a write-in candidate to quality to receives votes, those write-in candidates must fulfill candidate filing requirements by the August 31, 2021 deadline.

Gavin Newsom does not qualify as a write-in candidate, and votes for him as a write-in candidate will not count, as Newsom can't qualify to run against himself.
Results of the Recall
We will not know the results of the recall on election night. September 21, is the last day for mailed ballots to be counted. October 22 the Secretary of State will certify the recall election results, meaning we may not know election results till October!
What we do know… If the majority of voters, meaning more than 50%, vote "no" on question 1, Gavin Newsom will remain in office.

However, if the majority of voters, meaning more than 50%, vote "yes" on question 1, Gavin Newsom will not remain in office and California will have a new Governor. The new Governor will be one of the 46 candidates- the one with the most votes – and it doesn't have to be a majority of votes – in order for a candidate to become Governor of California through a recall.
---
Click on a button below and make your voice count!
Can't vote? No problem! Simply share this information with family and friends.
---
August 31, 2021: Special General Election Assembly District 18
A special election is being held to fill the vacancy resulting from the resignation of Assemblymember Rob Bonta. The runoff election, or General election, is between the top two vote getters from the June 29, 2021 Special Primary Election.
Who are the candidates?
Candidates in this election include (in order they'll appear on your ballot): Mia Bonta and Janani Ramachandran.
Who can vote in this election?
Only voters in the cities of Alameda, San Leandro and most of Oakland will be voting in this election. You can find out if you reside in Assembly District 18 at: FindYourRep.Legislature.CA.gov
Ballot Information
All eligible registered voters in AD18 will receive a Vote-by-Mail ballot beginning August 2, 2021. Check your voter registration status, update your voter information, or register to vote online by August 16, 2021 at: https://registertovote.ca.gov/
If you miss the August 16 deadline to register to vote, you can register and vote conditionally at the Registrar of Voters office or at your nearest voting location during open hours.
You can check your voter guide that was mailed to you for more information on this special election or visit: https://voterstatus.sos.ca.gov
Did you know you can track your ballot and confirm your vote has been counted? Sign up at: https://acvote.ballottrax.net/voter/
To find all the ways you can vote and get more details about this election:
Visit the Official Election Site of Alameda County online at: https://www.acvote.org/GO
In-person at the Registrar of Voters office, 1225 Fallon St. Oakland, 94612
Call the Registrar of Voters office at 510-272-6973
---
How to vote safe and early
Be vote ready and have a solid vote plan. Use our helpful guides.
Download English Vote Safe & Vote Early PDF Flyer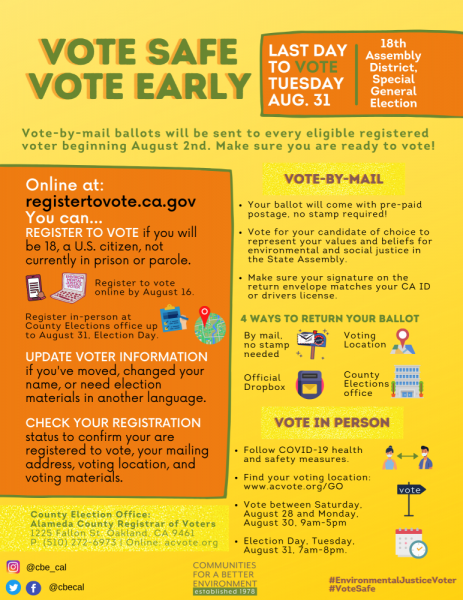 Download Spanish Vote Safe & Vote Early PDF Flyer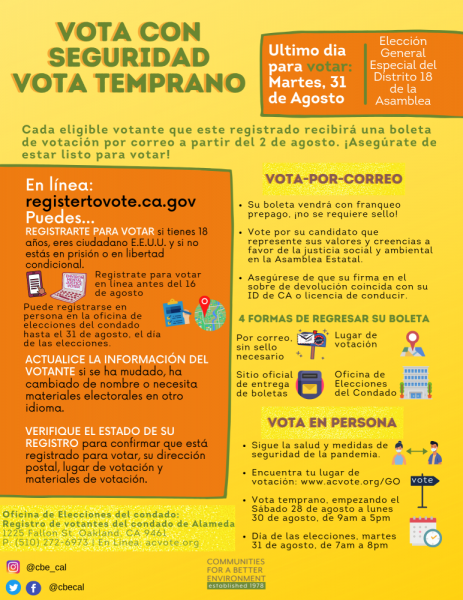 ---
What does my State Assemblymember do?
They are elected for two-year terms, however, whichever candidate wins in this special election is filling this seat to carry out the remainder of the term till the next election in 2022.
Vote on statewide legislation that is important for the residents they serve.
Staff of Assembly members can assist community members with State-related matters:

Department of Motor Vehicles
Foreclosure Prevention Programs
Consumer Complaints 
Veterans' Benefits 
Unemployment and Disability Insurance 
State Taxes 
Professional Conduct or Licensing Complaints 
Medi-Cal and Covered California 
You can contact the office of your Assembly member to find information on community resources you may need support with, such as:

Housing/Utilities
Family/ Community Support 
Food/ Meals 
Legal/ Consumer/ Public Safety 
Health Care 
Income Support/ Assistance 
Clothing/ Personal/ Household 
Mental Health/ Addictions 
Employment