Big Oil's goal is linking Canadian Tar Sands and explosive North Dakota Bakken crude oil through ANY Rail, Port, or Pipeline, to our West Coast Refineries, a highly profitable market. (Download Factsheet of this page here)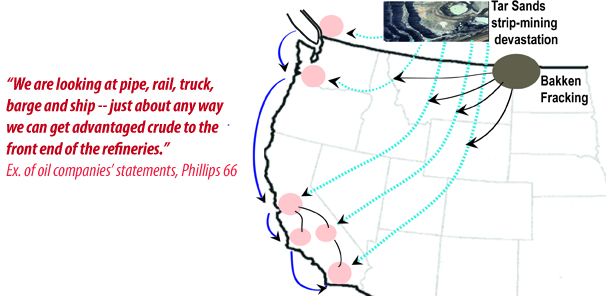 Once it gets from the now-isolated Canadian and N. Dakota regions to any W. Coast port, it can easily be sent to any other W. Coast or Asian port. This will further increase industry profits and can cause major damage from cradle to grave:
1) In Canada, devastating tar sands strip mining causes lakes of toxic water and fish contamination;
2) In North Dakota, fracking causes water and air pollution;
3) Rail, ship and other transport: increases risk of explosions, spills, and deaths;
4) In West Coast Oil Refineries, corrosive high sulfur tar sands and volatile Bakken crude increase explosion dangers, greenhouse gas emissions due to refining tar sands crude, and more.
Other energy sources are getting cleaner (using more renewable energy); but due to these proposed projects oil refineries would be getting dirtier inputs. CBE and many others up and down the coast and inland are fighting to stop every project. We have successfully slowed down or stopped many but the battle continues. See the links below, and our fact sheet.
WASHINGTON AND OREGON STATE, AND CANADA:
Canada – Vancouver B.C. Tar sands pipeline to ship
Tesoro, Vancouver, WA rail to ship
Portland westward or, rail to ship
SF BAY AREA CALIFORNIA:
Valero Benicia: rail to refinery
WESTPAC, Pittsburg: rail to ship & pipeline Phillips 66,
Rodeo: rail to pipeline and refinery
Chevron, Richmond: ship to refinery (gas oil)
Kinder Morgan, Richmond: rail to refinery
CENTRAL CA:
Alon Bakersfield: rail to refinery & pipeline
Plains All American Bakersfield: rail to refinery/pipeline?
Phillips 66, Santa Maria: rail to refinery & pipeline
LA AREA:
TESORO Wilmington/Carson rail to North, ship to LA
Phillips 66, Wilmington/Carson ship, potential rail/pipe to refinery
Valero, Wilmington rail to refinery (withdrawn for now)
* This map links to Canadian tar sands and North Dakota Bakken crude: not shown are links to extreme oil sources from many other parts of the world.
See other CBE Fact sheets: