Community exposé stops a third stealthy and dangerous LA refinery expansion project that would import Tar Sands & Bakken crude by rail, ship, and pipeline.
CONTACT:
Yana Garcia, CBE Staff Attorney:  (323) 826-9771 ext.117
Alicia Rivera, CBE Wilmington Organizer: (310) 634-7839
Friday afternoon August 22, 2014 Communities for a Better Environment (CBE) received an email from the South Coast Air Quality Management District (SCAQMD) informing us that the permitting process for a dangerous Tesoro Wilmington refinery project has been stopped.  Tesoro's permitting description was misleading at best, identifying only a shipyard pipeline to new Storage Tanks, claiming that the project would simply increase offloading speed from ship to shore.  There was no mention of the corrosive and explosive crude oils Tesoro plans to import, or its plans to combine its Wilmington refining operation with its newly acquired BP refinery in Carson; omitting major increases in greenhouse gases that result from tar sands crude oil refining, and other key impacts.  Based on Tesoro's omissions, the environmental document for the project incorrectly concluded that there was not even the potential for significant impacts.
CBE submitted documentation to the SCAQMD showing that the storage tanks were, according to Tesoro's own communications, part of a massive, larger project that would cause serious greenhouse gas emissions increases and extreme hazards.  (See CBE technical and legal comments on the project.[1])  The Tesoro-BP refinery integration project was confirmed by SCAQMD, and the agency has informed CBE that comments on the storage tank Title V permit were no longer necessary at this time.  SCAQMD stated that Tesoro will be replacing the associated California Environmental Quality Act (CEQA) environmental document with documents for the new larger refinery integration project.
Yana Garcia, CBE's staff attorney stated, "Tesoro's move to gain approval for a part of the Project without disclosing the impacts of the full project violated CEQA, and shouldn't have gotten as far as it did.  This is one in a long line of dangerous crude oil import projects the refiners are trying to sneak by us."
The withdrawn environmental document had claimed the storage tanks were only to increase efficiency of offloading from ship to shore, and would not cause significant environmental impacts.  But Tesoro's own business reports showed its plans to ship crude oil by rail across the Northern U.S. to the Vancouver Washington area, and then by ship down the west coast.  Tesoro had also considered direct rail shipments to LA.  Tesoro mapped and discussed these plans,[2] as the following excerpt from a Tesoro presentation demonstrates: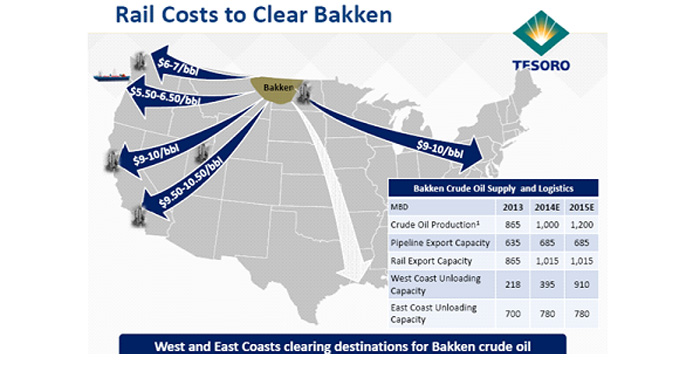 One of the crude oils identified by Tesoro for transport to LA is explosive N. Dakota Bakken, which has been identified by the U.S. Department of Transportation as presenting unique hazards of explosion, fire, and corrosivity, whether transported in railcar or other transport mode, requiring additional testing, handling, and information access for first responders.[3]  The oil can also include toxic benzene and hazardous hydrogen sulfide gases.  This crude was involved in a rail-accident that killed almost 50 people in Lac Megantic, Canada, and was involved in numerous other railcar accidents in the U.S.
Tesoro also identified Canadian Tar Sands crude oil for transport to LA, which is causing extreme environmental harm in Canada, would require much more intensive refining and coking in LA, and would result in major increases in greenhouse gases compared to existing crude slates at the refinery.  This crude also contains the very highest levels of sulfur contamination, increasing sulfur corrosion danger in the refinery.  Sulfur corrosion was found by the U.S. Chemical Safety Board to cause the explosion at the Chevron Richmond California refinery in August 2012.  Further increasing sulfur without disclosure or safety measures has the potential to cause life-threatening accidents, like that which occurred at the Chevron Richmond refinery and narrowly missed killing 19 workers.[4]
So called cost "Advantaged"crude oils can also increase dangers during impending major earthquakes.  These dangers include risks of fires, explosions, and spills, caused by the increased explosive and corrosive qualities of the crudes.  According to discussions of members of the California Engineering Foundation, while the Uniform Building Code is intended to minimize structural collapse, "Code specifications do not prevent structural damage."(See CBE's comments, cited above).
Alicia Rivera, CBE Community Organizer in Wilmington said "Oil companies are working to outflank us from every direction, but fortunately we were able to delay them in LA, the Bay Area, and up the coast to Canada, to protect public health and safety and to stop greenhouse gases.  But we, and the public, need to be in constant vigilance because the powerful oil companies will not stop."   (Also see CBE Map and Fact Sheet –Bad Energy, attached, showing a dozen projects, including two other LA refinery projects stopped after community pressure – Phillips 66 & Valero)
                                                  — END —
[1] The Proposed Negative Declaration by SCAQMD for the Tesoro Pipeline from its Long Beach Marine Terminal to
New Wilmington Refinery Storage Tanks is Missing Major Expansion Plan Descriptions and Requires a Full EIR, June 10, 2014, CBE
[2] Tesoro "Presentations" webpage, Simmons Energy Conference,
Transformation through Distinctive Performance,
February 27, 2014, http://phx.corporate-ir.net/phoenix.zhtml?c=79122&p=irol-presentations
[3] The U.S. Department of Transportation Pipeline and Hazardous Material Safety Administration, January 2, 2014.
[4] http://www.csb.gov/chevron-refinery-fire/