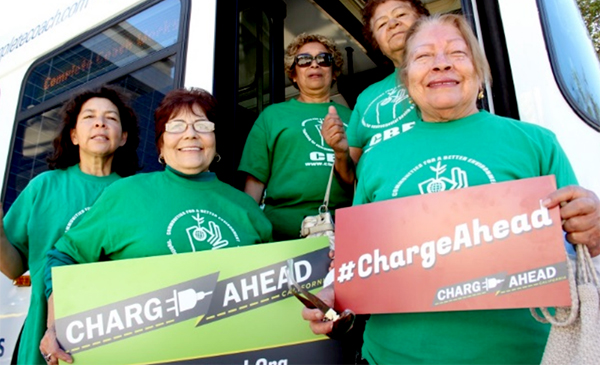 Every hour an unsavory deposit is trafficked into East Oakland, Southeast Los Angeles, and other low income communities of color: huge amounts of particulate matter from diesel trucking and toxics from fossil fuel burning automobiles. Highways and freight truck routes often congregate in our communities; this mobile pollution causes asthma, cancer, and other chronic diseases. According to the American Lung Association 19,000 Californians die annually from polluted air, much of which is emitted from tail pipes. Across the globe, tailpipe exhaust is also one of the major contributors to global warming.
CBE is one of the lead organizations that is working with a statewide coalition of environmental groups, Senator de León, other legislators, the Governor's Office and the Air Resources Board to accelerate California's transition out of this antiquated and destructive fossil fuel infrastructure. The Charge Ahead California Initiative intends to place one million electric vehicles on our state's roads over the next 10 years. The projected reductions in air pollutants will improve public health for our communities and will be another step towards a sustainable energy future.
What Would Charge Ahead California Initiative mean for me?

While consumer incentives to purchase or lease zero emission and near zero-emission vehicles would be extended for a number of years, CBE is working with allies to develop policies that enhances equity. Our proposal will establish programs that further increase access and direct benefits for low- and moderate-income communities for accessing zero and near-zero emission transportation including but not limited to car-sharing, credit enhancement programs (loan loss reserve programs), deployment of charging infrastructure in multi-unit dwellings in environmental justice communities, and allowing people in need to use and combine the incentives (for retiring old clunkers and buying/leasing plug-in vehicles) towards public transit. Charge Ahead Initiative also ramps us funding for Hybrid and Zero-Emission Truck and Bus Voucher Incentives Project and secures funding to support demonstration projects for clean freight technologies.
All of this translates to cleaner air, lower costs for cleaner vehicles, less money spent on fossil fuel, and more money and jobs for Californians.
For more information contact Bahram Fazeli, CBE Policy Director, 323-826-9771 x100