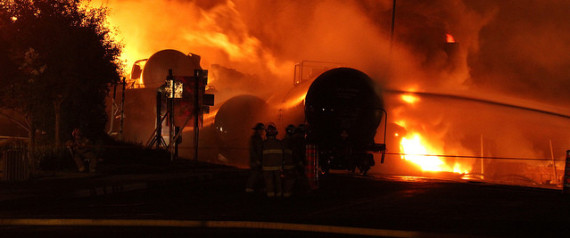 March 28, 2013
By Shana Lazerow, Staff Attorney
It seems like yesterday I was reviewing an expert analysis from CBE's senior scientist about the flammability of oil, and how bad an idea it is to have certain kinds of oil moving through low income communities of color in LA in rail cars. It wasn't yesterday, though, it was 2009, long before Lac Megantic became a household name.
Five years later, we are again looking at expert reports about flammability of oil and how bad an idea it is to transport it by rail through our communities, this time through Richmond. The news has not improved since 2009, and with the destruction of a town, and loss of innocent life only months ago, I'm not really in the mood to say "we told you so." But I would. I would absolutely shout "CBE TOLD YOU SO" if it would make a difference to stopping the dangerous railcars from going through our communities.
Richmond never got the chance to do that. Back in February, the air district (BAAQMD) received an application from Kinder Morgan to change the product in its Richmond rail deliveries. Specifically, Kinder Morgan had been transporting ethanol, and wanted to switch to crude oil. Staff decided it was a minor alteration, with no impact to the environment, so there was no notice to the Richmond community. Staff was wrong—an independent expert analysis shows that the operation involves vast increases in air pollution and endangers health in safety. The community did not have a chance to review the risks from crude oil, the safety measures Kinder Morgan would be undertaking to prevent catastrophic incidents, or the safety assessments the railroad would undertake to protect against derailment. There was also no information about how much, if any, of the crude will be refined in Richmond, and causing more local pollution. Indeed, as far as I know those assessments did not occur. The community did not know it was happening.
This is the community that had 15,000 people go to the hospital after a massive Chevron refinery fire. This community does not have much reason to trust BAAQMD, or oil companies.
As far as we know, Kinder Morgan shipments began in February. We filed a lawsuit against BAAQMD Friday, demanding an immediate halt to all shipments of crude under the permit; revocation of the operating permit and if Kinder Morgan wants that permit, an order that BAAQMD do it right: give notice to the community, send out an environmental impact report, and listen to Richmond's opinion on exploding railcars. Nobody should get a nasty surprise like that!
Tell air quality regulators to protect the region from the hazards of refining and rail transport of dirtier crude oil. Sign this petition today!
photo credit: Transportation Safety Board