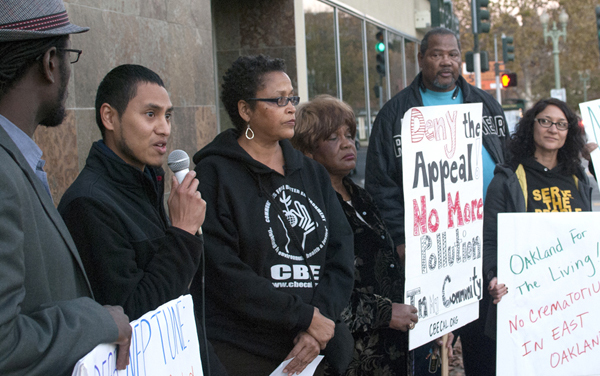 CBE Organizer, Jose Lopez, speaks to a crowd gathered in front of the Neptune Society office, Nov., 21, 2013
By Nehanda Imara, East Oakland Community Organizer
April 17, 2014

Oakland is a city constantly changing and transforming. In just the last fifteen years, Oakland has had three very different mayors. Yet as different as all three mayors have been, all campaigned on the promise of "public safety and attracting more businesses to Oakland." And all three failed to focus on public safety and attracting more businesses to East and West Oakland, or even to show respect for people's basic health. The Bay Area Air Quality Management District identifies these areas as having higher rates of pollution and pollution-related diseases, such as cancer and asthma, than other parts of Oakland.
Despite this information, in 2011 the City of Oakland issued a permit to Stewart Enterprises for a crematorium in East Oakland capable of burning 3,600 bodies per year.
Since February 2012, Communities for a Better Environment (CBE) has engaged hundreds of East Oakland residents in a campaign to stop Stewart Enterprises. Community members have raised their voices loud and clear, stating, "We do not want a death factory in our back yard!" A diversity of community voices from schools, churches, businesses, youth, and black and brown resident leaders have given over 500 petition signatures, testified at dozens of City meetings, and sent hundreds of emails expressing their right to breathe clean air.
Add your voice in opposing this crematorium.
If you know the type of organizing that CBE does, then you know that we are not afraid to use the law when necessary. In December 2013, CBE sued the City of Oakland to address its planning staff's incorrect interpretation of the City's regulation of crematoriums.
Tuesday, May 6 @ 5pm, rally in front of Oakland City Hall to put pressure on the Oakland City Council to stop the Neptune Society crematorium in E. Oakland. For details see the flier in English or Spanish.
LEARN MORE
Read more Spring 2014 Newsletter articles.
Photo credit: Steven D. Low