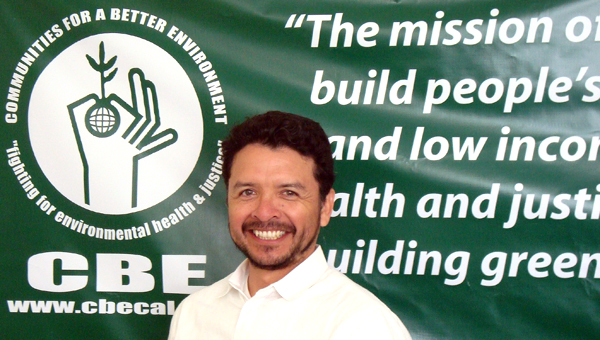 By Byron Gudiel, Executive Director
April 17, 2014
My name is Byron Gudiel and it is with great enthusiasm that I am joining the CBE family as the new Executive Director. In this new role, I hope to build upon my experience in movement-building for environmental justice and social change. Over the last 20 years of community organizing, I have had the pleasure of struggling and working with activists and organizers throughout the country in service of racial, educational, environmental and economic justice. I have also worked to expand immigrant and worker rights in our communities. As a long-time community member and activist, I have closely followed and long admired CBE's rich history of fighting to improve the realities of folks in low-income communities and communities of color, primarily by demanding environmental justice.
In 2011, U.S. Attorney General Eric Holder accurately described environmental justice during an event celebrating Dr. Martin Luther King Jr.'s legacy:
"Today, poor families of color are more likely to have a landfill proposed in their community. Their neighborhoods are more likely to have polluted water and soil. Their children are more likely to breathe polluted air and suffer from asthma. In 2011, the burden of environmental degradation still falls disproportionately on low-income communities and communities of color — and most often, on their youngest residents: our children."
This statement accurately describes the reality for the communities that CBE has been working with for over 35 years. CBE has taken on oil refineries, power plants, chrome plating facilities and lead smelters. Many of these facilities have been located next to schools, senior centers and homes. For instance, CBE is leading the fight against Exide Technologies, a battery recycling facility in Vernon, California. Exide has been polluting the soil of at least 39 homes and two schools—including a pre-school–soil which now tests positive for elevated levels of lead. In Richmond, California, CBE is also leading the fight against the oil industry giant, Chevron. When Chevron announced it was planning to expand its massive refinery, CBE, community members and ally organizations fought back and won. With a strategy that combined science, legal and community organizing resources, CBE and partners prevented Chevron's planned expansion of a crude oil refinery in Richmond, a community with some of the highest rates of asthma in the nation.
As it does in Vernon and Richmond, and has done for over 35 years, CBE has provided residents in blighted and heavily polluted urban communities in California with organizing skills, leadership training and legal, scientific and technical assistance, so they can successfully confront threats to their health and well-being. And in more cases than not, CBE has helped win victories by building people's power in California's communities of color and low-income communities. CBE will continue build on these strengths to create healthy communities and achieve environmental justice.
It is this commitment to justice and vision for healthy communities that has made Communities for a Better Environment one of the preeminent environmental justice organizations in the nation.
Read more Spring 2014 Newsletter articles.