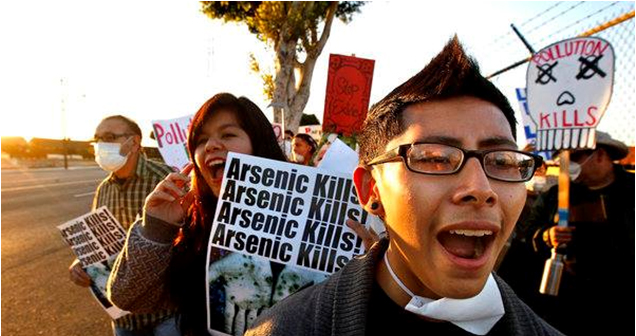 CBE YouthEJ members and residents en route to an Exide protest.
By Robert Cabrales, Community Organizer
April 17, 2014
For the past ten years (Exide has operated the facility since 2000), CBE and its members have been working to address issues concerning Exide Technologies' consistent violation of lead emission standards and other violations by attending hearings hosted by the South Coast Air Quality Management District (SCAQMD) and Department of Toxic Substances Control (DTSC). At each meeting CBE and allies received the same information about Exide's continuous violations.
More recently, the temporary shutdown of Exide by DTSC in April 2013 raised broader concern throughout Los Angeles County about the elevated levels of arsenic in the soil and groundwater, exposing over 120,000 County residents as far as Redondo Beach to this highly toxic substance.
In October 2013, CBE members and allies held a march in Vernon and a press conference in front of Exide. Over 200 people came together from Boyle Heights, Maywood, Huntington Park, Commerce, East Los Angeles and surrounding communities to seek justice, and to demand Exide's closure.
CBE and its allies feel that the government agencies tasked with protecting our health haven't been doing enough to stop a gross polluter like Exide. We demand environmental Justice NOW!
LEARN MORE
Read more Spring 2014 Newsletter articles.