For Immediate Release: Saturday, July 11
Contact:
Megan Zapanta, APEN, megan@apen4ej.org, 619-322-1696
Jasmin Vargas, CBE, jasmin.vargas@cbecal.org, 323-807-3234
Eddie Scher, ForestEthics, eddie@forestethics.org, 415-815-7027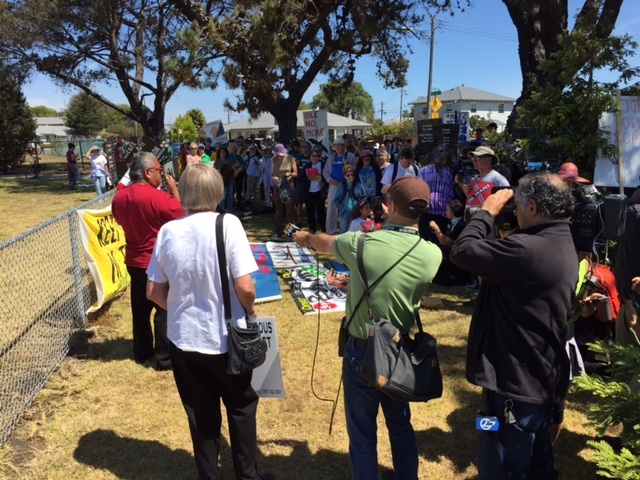 [Richmond, CA] Today hundreds of citizens gathered at Atchison Village Park to voice their opposition to oil trains moving through Richmond and the Bay Area. The rally was organized as part of the national Stop Oil Trains Week of Action.
"The event today in Richmond is one of more than a dozen citizen actions across California marking the second anniversary of the tragedy in Lac Megantic, Quebec, and demanding a ban on dangerous oil trains." says Ethan Buckner, ForestEthics California campaigner. "The Bay Area Air Quality Management District allowed the Richmond Kinder Morgan oil train facility to bring more of these trains through the Bay without any public input or oversight – it's time to revoke Kinder Morgan's permission to threaten the lives of millions of Californians."
"With the new Crude Injustice report we can show oil trains roll through poor communities of color with more frequency than affluent white neighborhoods, proving environmental racism is getting worse for the most vulnerable among us," explains Jasmin Vargas, CBE Associate Director. "In Richmond for example, almost 90% of people of color live in the blast zone, compared to 70% living outside the blast zone."
"This is more than just a fight against oil trains. Our lives are on the line. I've lived in San Pablo for over 30 years and seen my community suffer long enough from the impacts of the fossil fuel industry. We want to see solutions: a clean, renewable energy economy that serves both people and the planet," says Kae Lin Saechao, APEN member-leader.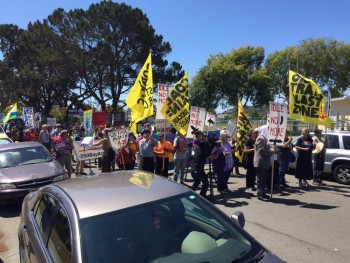 Groups involved include: APEN, CBE, ForestEthics, CBD, Sunflower Alliance, Idle No More, Sierra Club SF Bay Area Chapter, 350 Bay Area, Artisan Hub, CNA, Martinez Environmental Group, Bay Area Refinery Corridor Coalition, Crockett-Rodeo United to Defend the Environment, Benicians for a Safe and Healthy Community, Movement Generation, AFSCME District 57, Alliance of South Asians Taking Action (ASATA), and Bay Area Labor Committee for Peace & Justice.
Resources:
##
APEN advances environmental justice campaigns and policy with the leadership of low-income Asian Pacific American families in Richmond, Oakland, and across California. www.apen4ej.org
CBE works to build people's power in California's communities of color and low-income communities to achieve environmental health and justice by preventing and reducing pollution and building green, healthy and sustainable communities and environments. www.cbecal.org
ForestEthics demands environmental responsibility from government and the biggest companies in the world. Visit Blast-Zone.org to see if you are one of the 25 million Americans who live in the dangerous one-mile oil train evacuation zone. www.ForestEthics.org