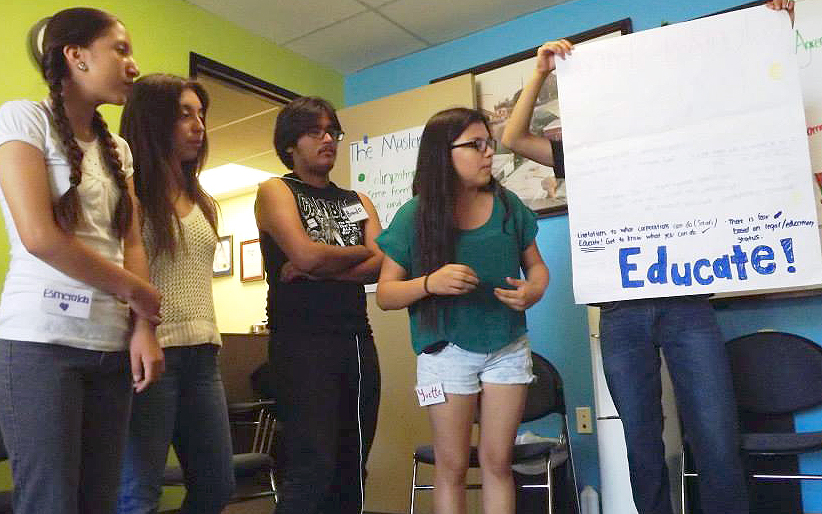 By Adam Ochoa, CBE youth member and South Gate High School Senior
October 7, 2013
Communities for a Better Environment (CBE) has prepared me to face certain social and environmental obstacles in my community head on. In fact, through advocacy and organizing I have learned what it means to be a true public servant seeking positive change. Furthermore, through the 16th Annual Youth for Environmental Justice (YouthEJ) Summer Training, I've gained the tools necessary to combat oppression and prejudice, which I confront on a daily basis, with education, love, compassion and action.
Thanks to CBE I've developed a clearer and broader understanding of who I am and, as a result, have reconnected myself with my roots and community. In addition to empowering today's youth, CBE continues the legacy of youth organizing for environmental justice and plays a vital role in communities throughout all of South East Los Angles. For all the reasons listed and more I am proud to be a core member of CBE and continue the beauty of empowered youth.
Background information about the YouthEJ Summer Training:
CBE's 16th Annual YouthEJ Summer Training took place from June 22 to July 27, 2013. Fifty South East Los Angeles youth and twenty-five Wilmington youth participated. Workshops included EJ 101, Toxic Tour, The Roots of our Hoods, Systems of Oppression, Organizing our Communities and more.
Sixteen summers ago, a small group of students from Huntington Park High School participated in a CBE EJ training and decided to create a youth group. This program has grown and now we celebrate it's 16th anniversary.