Local Clean Energy is Part of the Solution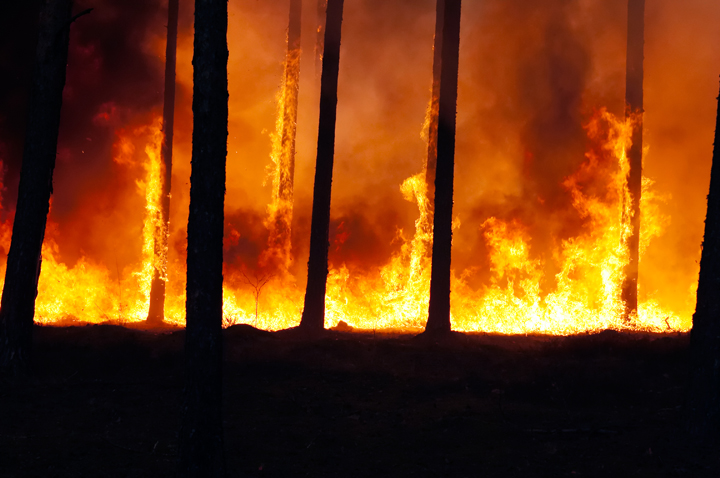 By Bill Gallegos and Steven Low
October 7, 2013
As I write this article, the Yosemite Rim fire continues to burn, with approximately 1800 firefighters still struggling to extinguish it (it is now mostly contained). The Rim fire is now the largest wildfire in the recorded history of California's Sierra Nevada. The fire has thus far destroyed over 250,000 acres, killed 9 people, and destroyed 14 pieces of property. The cost to fight the fire is already at $100 million and rising. The Rim fire is one of a series of devastating recent wildfires that have raged through thousands of square miles of forestlands in California, Colorado, and New Mexico. While these fires blazed out of control, choking droughts parched massive swaths of farmlands in Oklahoma, Texas, and other states.
The impact of the Rim fire actually touched San Francisco, more than 120 miles to the west, affecting that city's water and power supply from the Hetch-Hetchy reservoir, which lies within Yosemite and was damaged by the fire. California Governor Jerry Brown declared San Francisco an emergency area because the wildfire's flames caused officials to shut down three generators that supply power to San Francisco. The city had to temporarily import its power from other sources, and at a cost.
People in California, New Mexico, Louisiana and other states affected by recent disasters are asking: why are we experiencing so many intense natural catastrophes in such a short period of time? Unfortunately, these are the devastating impacts of climate change-the result of choking our atmosphere with trillions of tons of greenhouse gases. While there are other causal factors, global warming contributes to the frequency and intensity of these natural disasters.
I want to suggest one thing we can do that would have a great impact on reducing carbon emissions, cutting air pollution, improving public health, and generating good clean jobs. California should increase its commitment to renewable energy to at least 50% by 2030, instead of the current goal-33% by the year 2020.
Despite the current commitment, California's energy continues to move in the wrong direction. Utility companies are pushing to develop at least 3,000 mega watts of natural gas power generation in the Los Angeles and San Diego Basin. Natural gas is an unsustainable and dirty fossil fuel. A natural gas power plant can pump out millions of tons of pollution, even while using state-of-the-art technology. This could've been the case in 2007 when the city of Vernon proposed building a new natural gas plant. CBE and residents succeeded in stopping this project. As a result we prevented 1.8 million pounds of toxic pollution from further burdening people's health.
The Los Angeles Department of Water and Power, the largest municipal utility in the US, is considering replacing its coal and nuclear energy with natural gas, not with wind or solar. The environmental justice community and the mainstream environmental organizations need to unite to stop the construction of natural gas plants and to demand that California increase its commitment to clean, renewable energy to at least 50% by 2030, with a major portion of the solar build-out located in poor rural and urban communities, helping to clean up the air in those neighborhoods while providing good jobs for local residents, most of whom are working poor people of color.
The Rim fire is our latest wake-up call to take action on climate change. So we better get moving.
Si Se Puede!
* photo credit: Ervins Strauhmanis