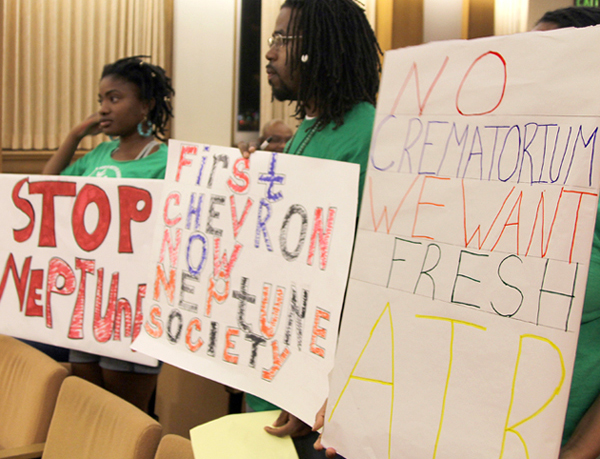 By Nile Malloy, Nehanda Imara and Steven Low
October 7, 2013
As detailed in a recent San Francisco Chronicle feature article, CBE members and allies have worked hard to put a wrench in the Oakland Planning Department's irresponsible decision to give a permit to Neptune Society's "Wal-Mart scale" crematorium that could burn over 3,000 bodies per year in East Oakland.
Human cremation emits a number of toxic air pollutants, such as mercury and dioxin. These emissions have been linked to cancer and exacerbate asthma. The Alameda County Public Health Department states that East Oakland already faces one of the highest asthma hospitalization rates in the country.
To fix the Oakland Planning Staff's mistake, Councilmember Larry Reid sponsored an emergency ordinance requiring crematoriums to undergo a full public and environmental review process as a prerequisite to operate. The Oakland City Council unanimously adopted this ordinance and later extended the ordinance for an additional 180 days.
At a September 11, 2013 Oakland Planning Commission meeting, CBE members, residents and allies pushed back on the Planning Staff's recommendation to zone only East and West Oakland for future crematoriums. We put up a good fight. As a result, Planning Commissioners directed Planning Staff to rewrite proposed zoning regulations to take into account the existing environmental conditions which harm our health.
CBE thanks Commissioners Jahaziel Bonilla and Emily Weinstein, who stood with the community and spoke up for environmental justice. All of Oakland, especially low-income communities and communities of color, should be protected from the air pollution that's associated with crematoriums.
Unfortunately, during the course of this campaign the City of Oakland lost a court decision regarding the Neptune Society crematorium. CBE is now encouraging the Oakland City Council to appeal this decision.
Help keep ALL of Oakland clear of crematorium pollution! Come to the Tues. October 15 meeting of the Oakland City Council, starting at 5:30 pm, and sign up to speak on agenda item #9. Learn more about this campaign.