July 2023 | Micah Castrillo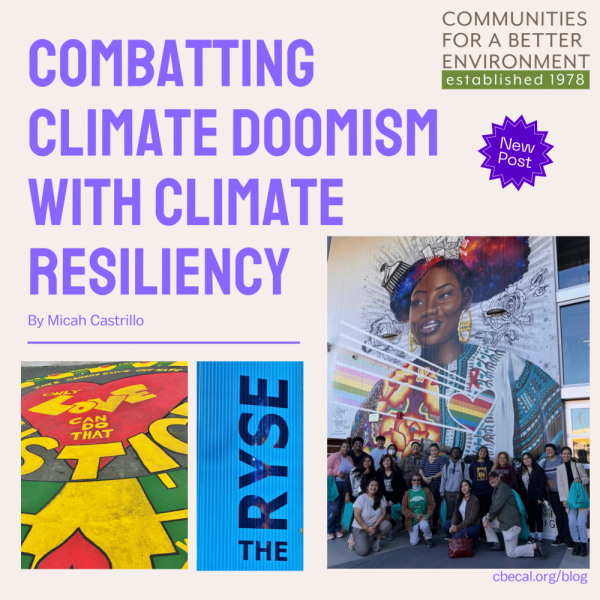 "Climate Doomism" is the view that humanity is doing too little too late to tackle climate change. Believing that despite our best efforts, we have let the problem go on too long for any real solutions to make a difference. For residents like me, from a small city in the South Bay, succumbing to climate doom would be easy. I've grown up in North Carson since I was 11 years old. Now at age 27, I've witnessed worsening environmental conditions in my own town for over a decade. When we first moved into the neighborhood, my mom loved the large trees lining every sidewalk. It was one of the reasons why she chose our home. The trees made us feel protected, shaded, and comfortable. We used to look up at the tree tops for birds on our weekly walks to the grocery store. Then one day all of the trees were cut down, never to be replanted. The temperatures on our sidewalks skyrocketed, and long walks became too difficult. On top of that oil industries expanding in cities nearby made the air quality too poor to stay outside for long periods of time. From an outside perspective walking through our neighborhoods, so overburdened by ever-expanding industry and declining air and soil quality, resignation would seem like the only choice. Yet, for community members in the South Bay, and throughout the Los Angeles area there remains a spark of hope. What is fueling that hope? People power, and residents that are ready to take the issue into their own hands.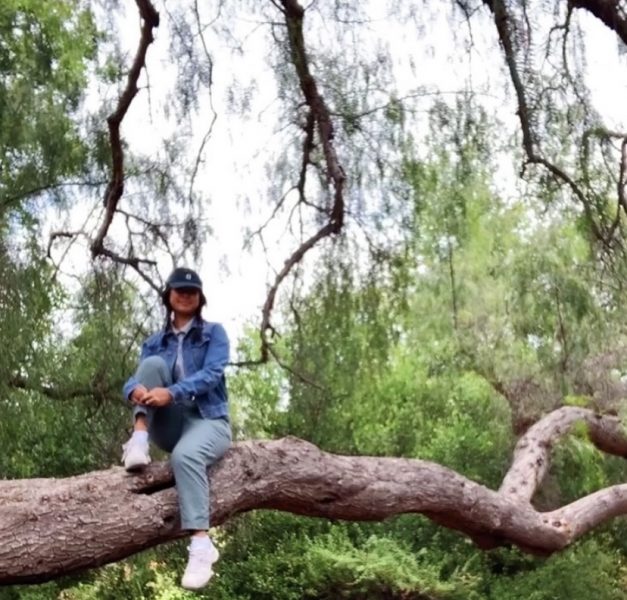 How does a neighborhood become overburdened with pollution? It starts by design and decades of failed regulatory policies that allow polluting industries to continue operating despite countless code violations. Wilmington is very distinct from other neighborhoods in Los Angeles, it is often referred to as "ground zero for big oil" and has become a capital for fossil fuel expansion. Oil industries have been allowed to take space in Wilmington in any way that they please regardless of the environmental harm. In a footprint of less than 10 square miles, Wilmington has the highest concentration of oil drilling in the City of LA, the largest port in the nation, and the highest concentration of oil refineries in California. The petroleum industry is a major source of hazardous air pollutants and smog. Rising temperatures as a result of climate change only increase the concentration of harmful pollutants. Thus, air quality has dramatically declined over the last decade.
The decrease in air quality does not just stop at Wilmington's borders. The effects spill over into neighboring cities, causing significant cumulative impacts on public health. In my own experience living in north Carson, a city that shares a border with Wilmington, I've witnessed the adverse outcomes in my own family. My little brother suffered from frequent nosebleeds and required a breathing machine at night, my grandpa passed from pneumonia an infection that causes severe inflammation in the lungs, and my grandma passed from lung cancer despite never having smoked a day in her life. The health issues that my family faced as a result of an overbearing industry occurred nearly a decade ago. With the added pressure of climate change,  prolonged heatwaves, and increased air pollution negative health impacts are only expected to rise. The consequences that residents encounter from worsening environmental conditions are a reality we face every day. One that we are ready to change.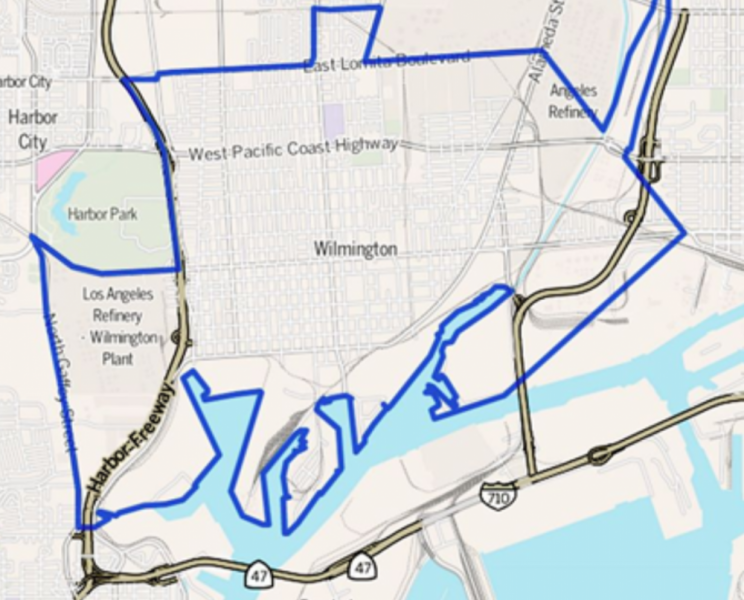 That change begins with building resilient neighborhoods. By providing essential resources and creating safe spaces for communities to come together we can have the capacity to recover. Resiliency hubs have proven to be essential resources in our communities.  These are community centers that educate the public on the impacts of climate change and pollution, prepare communities for extreme weather events, and serve as a place to create a dialogue between residents.  Given the importance of resilience hubs, we are excited to announce the anticipated release of the Candidate Resilience Hub Mapping Tool, designed by PSE Health Energy, Communities for a Better Environment, and the Asian Pacific Environmental Network.  The Candidate Resilience Hub Mapping Tool is an interactive map that allows users to identify opportunities for resilience hubs in California. The tool allows us to see which communities would benefit from a resilience hub by assessing local climate hazards, climate vulnerability, and by identifying potential building sites.
When searching my own neighborhood, I can see that Carson falls near the severe end of the climate vulnerability index. That information may be quite alarming at first, but also being able to spot areas for resilience hubs shows that there is space for real solutions in my community. I recently had the opportunity to speak with a CBE youth leader and lifelong Wilmington resident about his recent trip to The RYSE Center and Commons is a resilience hub and youth centered space in Richmond, CA. The hub is a space for healing, personal development, play, expression, incubating ideas, performances, art, launching businesses, exploring technology, connecting with universities and partners. Below we discussed his thoughts on the trip and the potential for the mapping tool.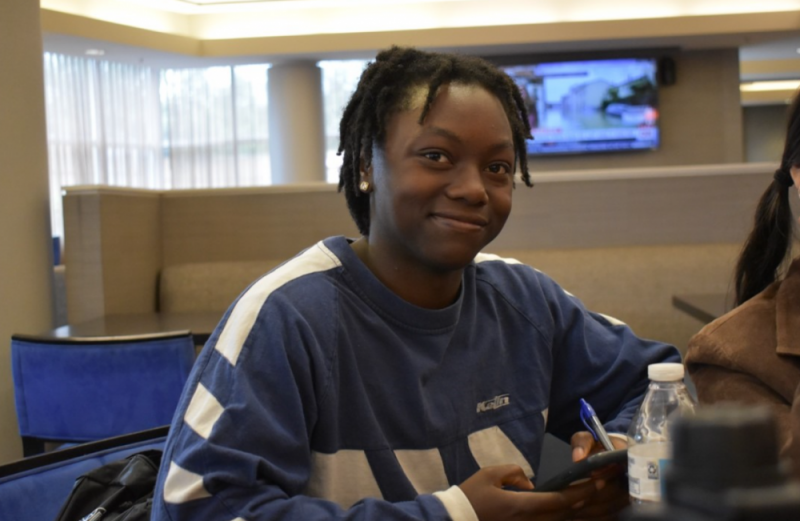 Interview with Romeo Clay (Youth Leader for CBE)
Q: Thanks for speaking with me today Romeo. To start off, Introduce yourself and your background growing up in Wilmington.
A: My name is Romeo Clay and I am a 17-year-old resident living in Wilmington. Growing up in this area I have dealt with smoke from burning refineries and exhaust from diesel trucks. I have faced extreme heat during the summers and a limited amount of community spaces.
Q: Can you elaborate on some of the environmental challenges your community faces in Wilmington as a whole?
A: In Wilmington, we face a lot of environmental challenges. Some that my community is currently working to overcome are excess exhaust from gas and burning fuel, active oil wells near where people live, and refineries emitting toxic gases.
Q: Yes, that is a lot to deal with all in one area. From my understanding, the resiliency hubs have been a place to help address some of these environmental problems in frontline communities. CBE recently took a trip to visit one of the resilience hubs, can you further explain the purpose behind the trip?
A: The resiliency hub trip was a 2-day trip to Richmond and East Oakland to see how they have organized their community and how we can replicate that in Wilmington.
Q: That's great, while you were on the trip did you notice it having a significant impact on members? If so, how?
A: This trip impacted members by giving them an example of what their community could look like in the near future and showing them how it can be done. It gave members the ability to dream big not only for themselves but for their community.
Q: I love that. So, on a personal level, what does having a resiliency hub mean to you?
A: To me, a resiliency hub is a place that has a space for everyone in the community to get the resources they need whether it be food, water, or just a place to interact with others. It also means that the city and government care about our community enough to build a space that helps us to thrive.
Q: Yes, I agree. I also think communities would greatly benefit from more resilience hubs. How do you think frontline communities could benefit from having a resiliency hub mapping tool?
A: I think frontline communities could benefit from having a frontline mapping tool by allowing them to visualize where they would like to have their resiliency hub and it would allow them to make a collectively informed decision.
Q: Definitely. Being able to make a collective decision is so important. Any resource that allows communities to better identify potential risks in their area is the first step to creating change. The tool has the potential to create a big impact there.
A: Yea, I agree! I'm excited for its full release.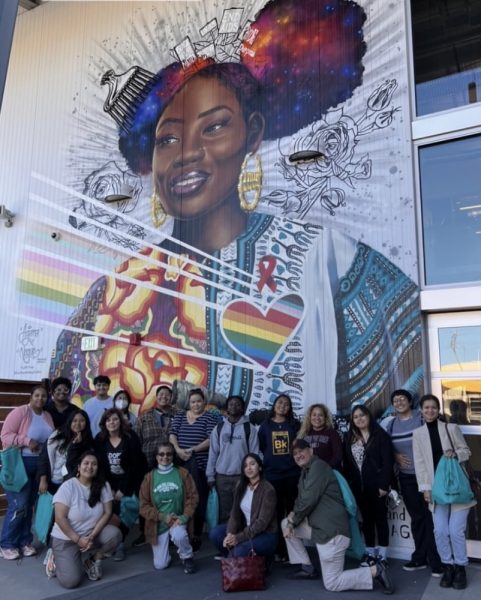 During our interview, there was one thing that Romeo stated that really stuck out to me. That the resiliency hubs give residents "the ability to dream big not only for themselves but for their community." For us living in frontline neighborhoods, especially those exposed to major polluters, we know that these issues are not going to resolve overnight. However, if we continue to connect members to the tools they need and create spaces that allow communities to rise up in the face of disaster, perhaps we can one day make that dream a reality. Until then, we will keep working every step of the way to connect residents to crucial resources. For the past 2.5 years, CBE has worked alongside PSE Healthy Energy to create solutions like the Candidate Resilience Hub Mapping Tool to support communities and local organizations in creating their own resilience centers. Resources like the one we created allow residents to assess environmental vulnerabilities in their area, identify potential sites for resilience hubs, and ultimately create a safe space for communities to come together. Romeo's trip to the resiliency hubs in Richmond and East Oakland, also called the RYSE centers, has allowed us to see the transformative work being done when residents organize. With the creation of the mapping tool and the ability to pinpoint potential new sites, we can continue to build climate-resilient neighborhoods together.
Editor's note: In 2020, Communities for a Better Environment, Asian Pacific Environmental Network, and PSE Healthy Energy were awarded a planning grant from Strategic Growth Council. These funds have resulted in two years of integrating community knowledge into a mapping tool, expanding community resilience, and collaborating with countless organizations and local government to expand access to resilience hubs.