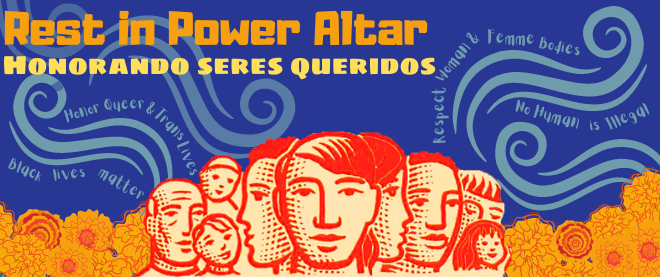 Uk'ux k'aj uk'ux ulew. "From the heart of the earth to the heart of the heavens." "Del corazon de la tierra al corazon de los cielos." -Maya Prayer/ Rezo Maya


The CBE Rest in POWER Altar is a virtual space to honor our loved ones who have passed so that we may heal collectively. We must show up for each other especially as our government continues to fail us. Share their story through the form below and we will publish it on this page.
Este altar virtual es un espacio para honrar a nuestros seres queridos que han fallecido para que podamos sanarnos colectivamente. Debemos apoyarnos los unos a los otros, especialmente cuando nuestro gobierno sigue fallandonos. Comparta la historia de su ser querido a través de la forma en esta pagina y la publicaremos.
As we mourn the loss of loved ones, we also mourn the immense loss of black lives lost to state sanctioned violence, please visit this virtual altar by the Anti Police-Terror Project to see or submit someone's image and story.
Mientras lamentamos la pérdida de seres queridos, también lamentamos la inmensa pérdida de vidas negras/ afro americanas perdidas a causa de la violencia sancionada por el estado. Visite este altar virtual del Anti Police-Terror Project para ver o enviar la imagen y la historia de alguien.

⇓ Click to enlarge form/ Haga clic para agrandar la forma ⇓