710s fwy Campaign Townhalls
Huntington Park (6/18) Bell Gardens(6/24), South Gate (7/1), and Cudahy (7/8).
Save the dates for our upcoming Congress of Neighbors Town-halls on the project! Ven a los Congreso de Vecinos para escuchar algunas actualizaciones sobre el proyecto.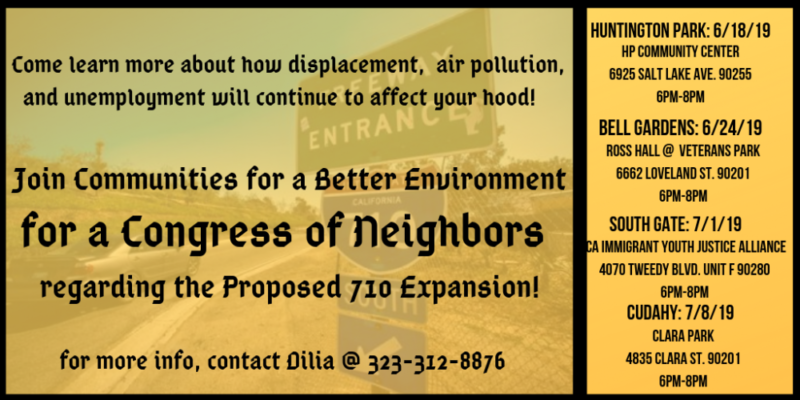 BAN Modified Hydrogen Fluoride from Wilmington & Torrance Valero Refineries!
Your voice is needed at the Air District Refinery Committee meeting Saturday, June 22nd @ 10:00am
AQMD Headquarters 21865 Copley Dr., DIAMOND BAR 91765
Free transportation leaving @ 8:30 am from Wilmington Senior Center, 1371 Eubank Ave. Wilmington 90744. RESERVE A SEAT with alicia@cbecal.org or 310-634-7839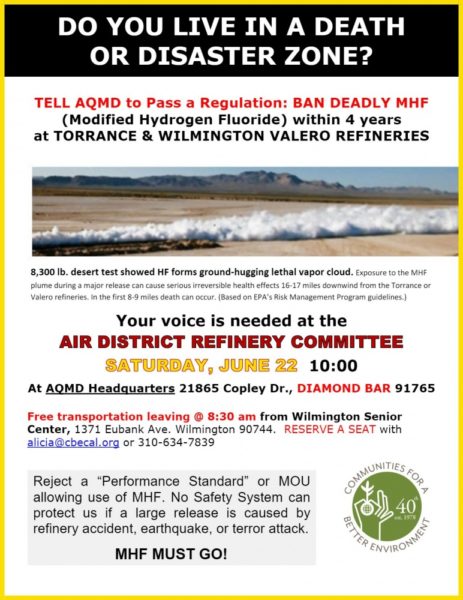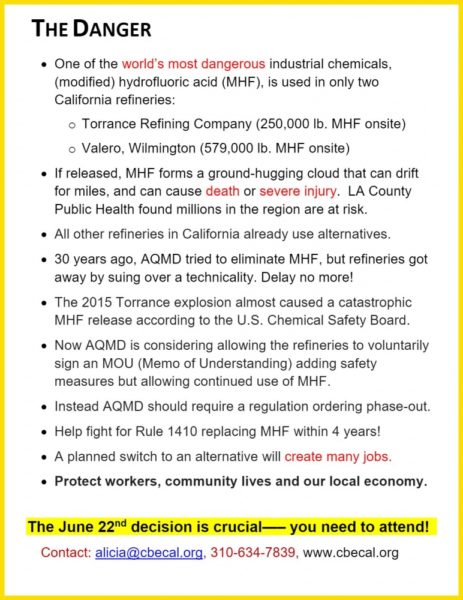 May 31, 2019 @ 6pm- East Oakland Community Meeting
Join us for our upcoming meeting to hear updates on your community and on the MEGA crematorium that continues to pollute our overburdened community. May 31st @ 6pm
Venga a nuestra próxima reunión para escuchar sobre su comunidad y sobre el crematorio MEGA que continúa contaminando a nuestra comunidad sobrecargada. 31 de mayo a las 6pm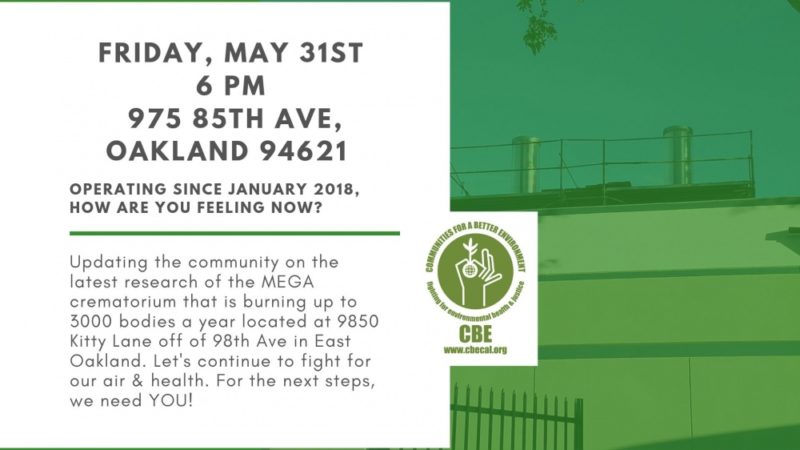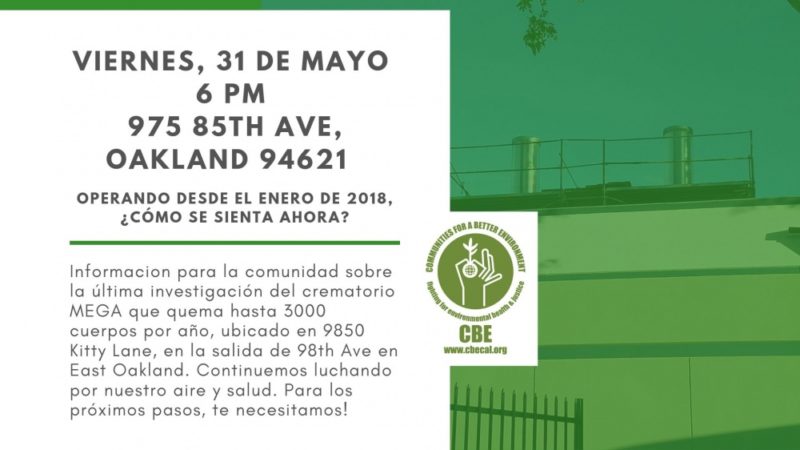 Regional Leadership Academy: East Oakland & Richmond
Click HERE to register!
Join us for 3 Saturday training's about our environment and how it connects to our identity, health, and our power. Learn about grassroots feminism, responding to emergencies in our community, and the power we can build together.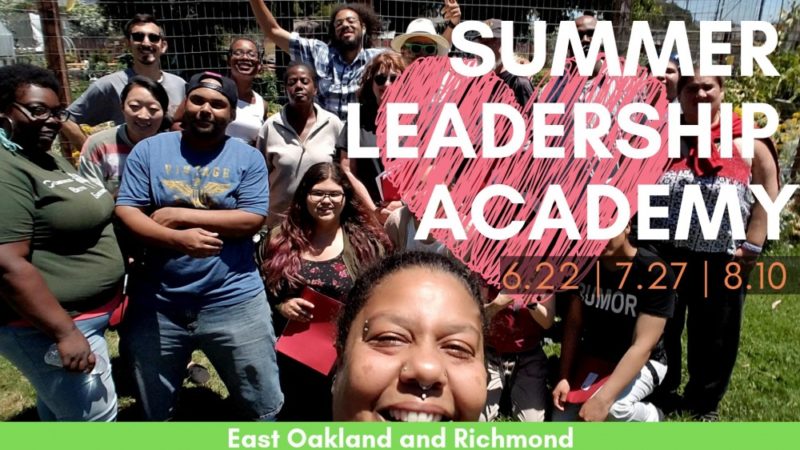 5/18/19 Our Voice, Our County- Festival!
Saturday, May 18 | 11:00 a.m. – 2:00 p.m
Los Angeles Harbor College PE/Wellness Center
1111 Figueroa Place Wilmington, CA 90744
Click HERE for more info.
How would you improve the community in which you live? Bring us your ideas for sustainable housing, air quality, parks, and more to inform the #OurCountyLA sustainability plan. More information and RSVP link at OurCountyLA.org #OurCountyLA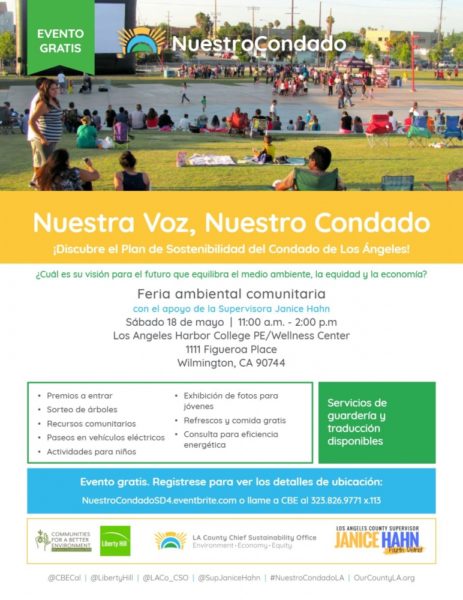 2nd annual- CBE Richmond- Toxics and Resiliency Bike Tour
Saturday, April 27th, from 10:30am- 1pm.
Come prepared with your water, inhalers if you need them, comfortable shoes, & water!
Please RSVP with our Richmond Youth Organizer, Zolboo, for more details! 510.495.7956
BYOBike!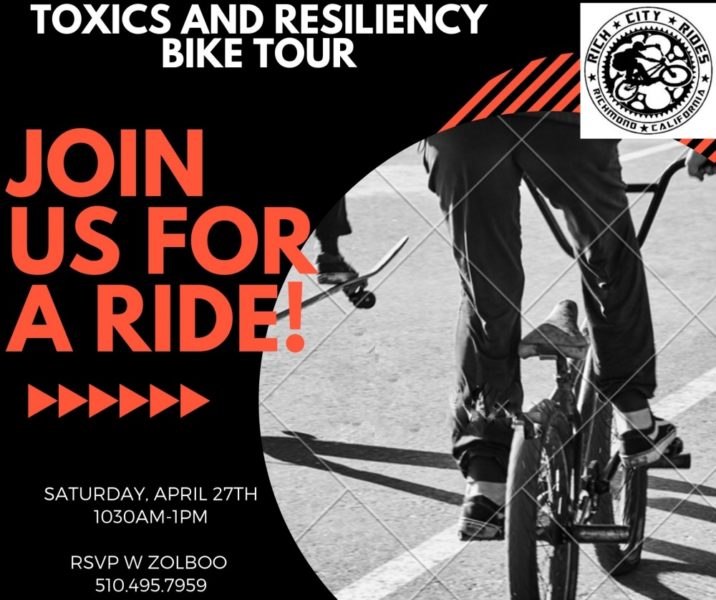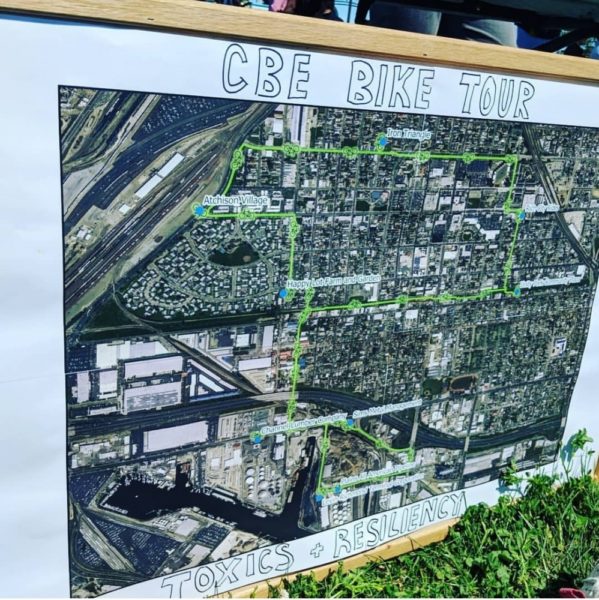 East Oakland: EJ on Earth Day!
Join us for a fun-filled morning with community!
10am-2pm
975 85th Ave, Oakland, CA 94621
FB Event: http://bit.ly/2UMQDck
"Feel the sun on your face, meet your neighbors, help to take care of your community, and just enjoy yourself!"
In Collaboration with Acta Non Verba: Youth Urban Farm Project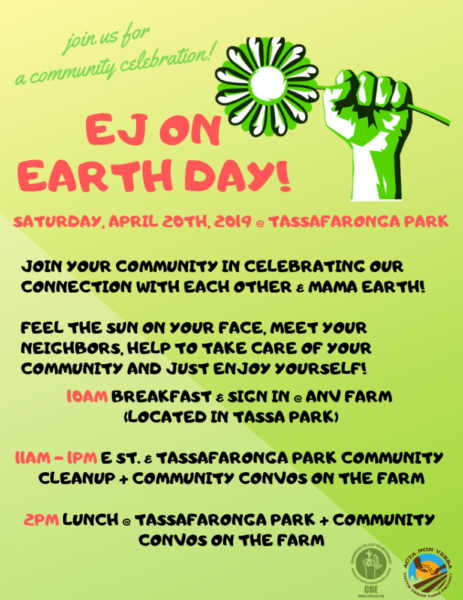 Richmond Community Meeting Saturday, April 13, from 9:30am-12pm
Please join CBE for our monthly Members Meeting.
Where: 120 Broadway, suite 2, Richmond, CA, 94804
9:30 a.m. – Breakfast
10:00 a.m. – Meeting starts
12:00 p.m. – Meeting ends
* Would like to find out more about the Green New Deal and how it can help you and your family?
* Closing down Chevron and other refineries: How can we decommission refineries and save the planet?
* Video Premiere – Redlined: The Legacy of Housing Discrimination. Find out how the US has created ghettos and suburbs, gentrification and historic racial discrimination.
* Will Richmond ban coal and petroleum coke shipments at the port? How can you help?
* What is the status of the battle over Pt. Molate and how will it impact the people of Richmond?
* Safe Return Richard Boyd Fellow Update: Lamar Harrison
Dan Sakaguchi, CBE staff researcher, will share his research on how the Green New Deal can impact people in Richmond.
Greg Karras, CBE Senior Scientist, will discuss his new study calling for the shutting down of all California oil refineries in the next ten years or risk losing the planet.
Ron Chavez of the Greenlining Institute has created a new video showing how the US government has shaped racially discriminatory housing patterns that have shaped our lives.
A representative of No Coal in Richmond will present on the status of a proposed ordinance to limit these deadly shipments.
A representative from the Pt. Molate Alliance will present an update for us and how we can help.
CBE member Lamar Harrison will give us an update on his experiences as a Richard Boyd Fellow
SELA Toxic Tour/ Recorrido Toxico en SELA- April 27 from 10-2pm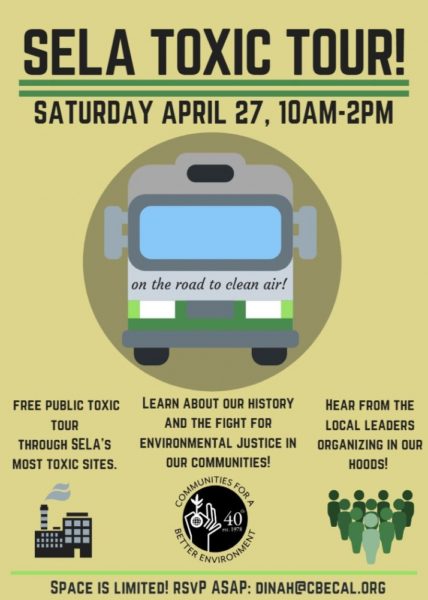 South East LA! ¡La gira tóxica del 27 de abril está abierta al público-GRATIS! The April 27th toxic tour is open to the public-FREE! Flyer/ volante. FB: http://bit.ly/SELAToxT
Saturday, April 27th, 10-2pm
RSVP: dinah@cbecal.org
3/7/2019 Town Hall: No Tar Sands Refining in Rodeo! Bay Area
Refinery town residents and Bay Area allies are hosting a regional town hall in Rodeo on Thursday, March 7th, to address Phillips 66's dangerous plans to expand tar sands refining at its Rodeo facility. Please join us! #NoTarSandsInOurBay#TarSandsFreeSFBay