February 2022| Communities for a Better Environment
Communities for a Better Environment honors and celebrates the countless achievements, contributions and sacrifices that Black Americans have made throughout U.S. hxstory, as well as the lived and shared experiences of Black Americans and African Americans that have shaped the world, our society, and culture as we know it.
We want to make clear the difference between Black Americans and African Americans, because Black Americans are descendants of enslaved African people that were forcibly brought to the United States during the North Atlantic Slave trade and African Americans are in reference to Black/African people who immigrated to the United States on their own.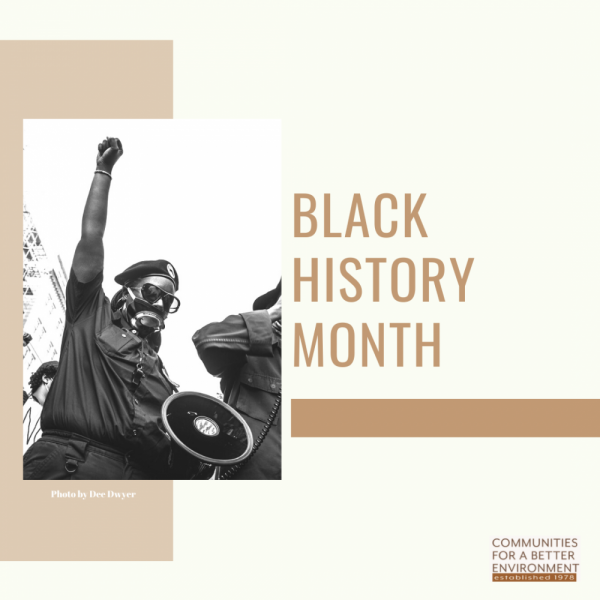 The environmental justice movement is rooted in Black American hxstory. Black Americans in the environmental justice sector have made countless efforts to protect our communities from industrial pollution, corporate greed, and political malfeasances. Black American communities have always been targeted as dumping sites for toxic pollution.
This issue was brought into the national spotlight in 1982 when a landfill in Warren County, North Carolina became the proposed site for dumping toxic soil filled with polychlorinated biphenyls (PCBs)– highly toxic chemicals that were commonly found in electrical equipment with a known range of adverse health impacts. Warren County was one of the only majority Black American counties in the state of North Carolina. In response, Black American communities staged a sit in to stop the dump and protect their community. This event is widely seen as the beginning of the environmental justice movement.
Civil rights leader, Rev. Benjamin Chavis, led the United Church of Christ Commission for Racial Justice to publish a report named Toxic Wastes and Race in the United States in 1987. The report revealed that race was the most significant factor in the location of hazardous waste sites and was one of the first of its kind to illustrate the urgency for environmental justice.
In 1990, Black American environmental justice leaders played a critical role in calling attention to the racist practices of the "Group of Ten"—a group of national and predominantly white environmental organizations.
They co-wrote a letter with Indigenous, Latinx, Asian American and Pacific Islander environmental justice leaders calling out these predominantly white-led organizations for the lack of Black American and people of color in their leadership positions, as well as the harm they were causing to Black American, Latinx, Indigenous, Asian American and Pacific Islander people. As a result, some of these organizations began addressing environmental justice in their programs and policy campaigns.
Black American leaders convened with Indigenous, Latinx, Asian American, Pacific Islander and international leaders for the First National People of Color Environmental Leadership Summit in 1991 in Washington DC. They developed the 17 principles of environmental justice, which still serve as a basis for environmental justice organizing today.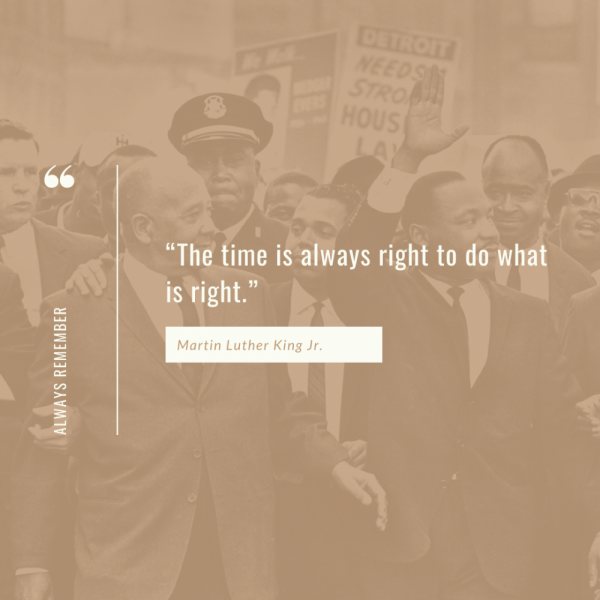 Today, the fight continues. Although we've made great strides, there are still police getting away with murdering Black lives, segregation and red-lining, mass incarceration, discrimination in educational and work spaces, lack of funding and resources directed to Black American communities, misogynoir, transmisogynoir, inadequate healthcare for Black women and families and many more issues too numerous to state.
Black American communities built the United States and have yet to receive any type of apology nor reparations. The group American Descendants of Slavery (ADOS) Advocacy Foundation, Inc is a nonprofit organization seeking justice through reparations and a transformative Black agenda for Black Americans who are descendants of enslaved Black African people in the US.
In addition, the group Safe Return Project, a fellow Richmond Our Power Coalition member, is an organization invested in securing the freedom and liberation of formerly incarcerated and convicted individuals.
As Dr. Martin Luther King Jr once stated, "The time is always right to do what is right." Now, more than ever, is the time to stand in solidarity with Black American and African American communities, recognize and celebrate their existence, and fight for a liberatory world where Black American and African American communities feel safe and secure.
We urge you to connect, follow, and support sister organizations that are Black-led because there's a special kind of joy, power, and transformation in doing good & shaping the world together.