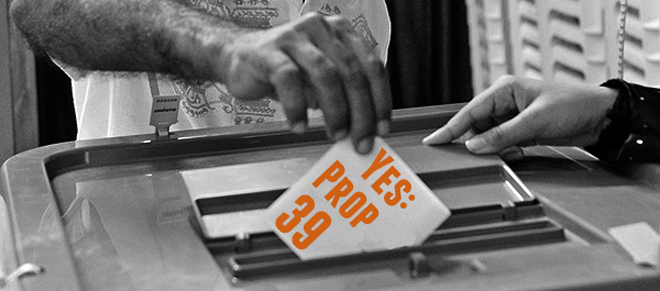 YES on Prop 39 Clean Energy and Jobs Act (CEJA)
Voting YES on Prop 39 would close a tax loophole for out-of-state businesses with operations in California. It would require them to pay their fair share of taxes to the State based on their sales in California, instead of rewarding companies for locating (and creating jobs) outside of California.
The proposition would generate an additional $500 million in annual General Fund revenue starting next year, and $1 billion a year after 5 years. This long-term revenue will help reduce the deficit and increase available funding for vital services such as education, health and social services, transportation, and prisons.
The measure would also allocate $550 million a year to fund clean energy projects and energy efficiency improvements in schools and public buildings. And, in addition to prompting job growth by discouraging businesses from locating outside of California, CEJA will create an additional 20,000 to 30,000 construction-related jobs via direct investment in energy efficiency and clean energy projects.
YES! on Prop 30: "Sales and Income Tax Increase"
Voting YES on Prop 30 would temporarily raise personal income taxes up to 3% over the next 7 years only on annual incomes starting at $250,000 and over, and increase the sales tax by ¼ of one cent for 4 years.
The collected tax revenues would go toward education: 89% to K-12 and 11% to community colleges. Funds designated toward education cannot be used for administrative costs, but does allow governing boards to decide, in open meetings, how these funds are to be spent. It also guarantees funding for public safety services.
Prop 30 is an initial step to help address the state's chronic budget problems and help restore severe cuts in education and social services.
NO on Prop 32: Paycheck Protection Initiative
Voting NO on Prop 32 prevents anti-union millionaires and billionaires who wrote and support Prop 32 from silencing the voices of unions—including teachers, firefighters, and nurses—in the electoral arena.
Prop 32 sounds fair on the surface, but it is deceptive. It prohibits corporations and unions from directing their payroll deductions toward political campaigns. But only unions use payroll deductions, in the form of union dues. A small portion of union dues are donated to political campaigns; the rest of the dues provide unions' only source of income. Corporations do not raise money via payroll deductions, so Prop 32, in fact, has no impact on corporations.
Unions have been the major political force in achieving Social Security, Medicare, funding for public education, and many other vital social services.
Don't let corporations and wealthy individuals silence union voices!
YES! on Prop 37: California Right to Know Genetically Engineered Food Act
Voting YES on Prop 37 would require food sold in retail outlets to be labeled if it contains a significant amount of genetically modified material. Additionally, these products would not be allowed to be labeled as "natural."
Currently, supermarkets across the state are selling food without any label stating that they have been genetically modified. Genetically modified food is a plant or meat product whose DNA has been artificially altered by using DNA from other plants, animals, viruses or bacteria.
We already have food labels showing nutrition and allergy information. Consumers have a right to know about all the ingredients in the food they eat.
City of Richmond
YES on Measures N and O
Measure N would create a "business license fee" of 1 cent per ounce on sweetened beverages sold within the city limits. Diet sodas, water, milk and 100% juices would be exempt.
Measure O advises the City Council to use funds from Measure N on youth sports, school gardens and health education programs for the City of Richmond.
Other Recommendations
NO on Prop 31: Two Year State Budget
Establishes a two-year state budget (instead of four years), but also permits the Governor to cut the budget unilaterally during fiscal emergencies if the legislature fails to act. Prop 31 allows local governments to alter application of laws related to spending (including potentially environmental and social service regulations) unless the legislature vetoes such changes within 60 days.
No on Prop 33: Automobile Insurance Persistency Discounts
Prop 33 would turn back the clock on consumer protections and force those who can least afford insurance to pay higher insurance rates.
YES on Prop 34: End the Death Penalty Initiative
Repeals the death penalty as maximum punishment; instead requires life sentences without parole.
Neutral on Prop 35: Ban on Human Trafficking and Sex Slavery
Our analysis shows that Prop 35 creates an expanded and potentially over-broad definition of human trafficking. This may subject family members to increased sentences and other penalties.
YES on Prop 36: Revise the Three Strikes Rule
Save millions of dollars that will go to schools and crime prevention, and restore the law's original intent to keep violent criminals behind bars.
NO on Prop 38: State Income Tax Increase to Support Education
Does not support all education spending and puts the tax burden on poor and working class.
YES on Prop 40: Senate Redistricting Referendum
The task of drawing legislative districts remains with an independent commission instead of going to self-interested politicians.
CALIFORNIA PROPOSICIÓNS
Si en la Proposición 39 (Acta de Trabajos y Energía Limpia)
El votar Si en la Proposición 39, requeriría que las corporaciones multi-estatales paguen la cantidad justa de impuestos sobre ingresos basados en sus ventas en California, en vez de ser recompensadas por crear trabajos fuera del estado de California.
La proposición 39, generaría $500 millones en ingresos al Fondo General comenzando el próximo año, y $1 billón anuales por los próximos 5 años. Este ingreso de largo plazo ayudaría a reducir el déficit e incrementaría los fondos para servicios vitales como la educación, salud, servicios sociales, transporte.
La proposición también asignaría $550 millones de dólares anuales para financiar proyectos de energía limpia y mejorías en la eficiencia de energía dentro de las escuelas y edificios públicos. Además de estimular la creación de más trabajos dentro del estado al disuadir a las compañías de llevar trabajos fuera de California, CEJA (Acta de Trabajos y Energía Limpia por sus siglas en Ingles) crearía 20,000 a 30,000 trabajos adicionales en el sector de construcción por medio de inversión directa a proyectos de eficiencia de energía y energía limpia.
Si! en la Proposición 30: Incremento a los Impuestos para Financiar la Educación
El votar Si en la proposición 30 ayudaría a recaudar fondos para nuestras escuelas!
La proposición 30 temporalmente aumentaría los impuestos sobre los ingresos personales en un 3% por los próximos 7 años a aquellas personas con ingresos anuales de $250,00 o más y aumentaría los impuestos de ventas por un 1/4 de centavo por los próximos 4 años.
Los ingresos recaudados serian designados a la educación: 89% iría a las escuelas K-12 y 11% a los colegios comunitarios. Los fondos dirigidos a las escuelas públicas no podrán ser utilizados en costos administrativos, sin embargo, permite a los consejos directivos el decidir en juntas públicas, como se pueden gastar dichos fondos. La proposición también asegura fondos para la seguridad pública.
La proposición 30 es un paso inicial para poder resolver el déficit presupuestario en California y un comienzo para poder restaurar los cortes hechos a las escuelas y otros servicios sociales.
No en la Proposición 32!: Iniciativa de Protección de Salario
El votar No en la proposición 32 evitaría que los millonarios y billonarios que son anti-sindicatos y quienes escribieron y apoyan esta proposición, limiten las voces de los sindicatos dentro de la arena electoral esto incluiría a maestros, enfermeras y bomberos.
A plena vista, la proposición 32 parece justa pero en realidad en engañosa. La proposición prohíbe a las corporaciones y también a los sindicatos de recolectar fondos con fines políticos, de sus empleados a través de retenciones voluntarias de sueldo. La realidad, es que solo los sindicatos deducen dinero del sueldo, a través de cuotas, y solo un porcentaje muy pequeño es donado a campañas políticas; lo que resta de las cuotas sirve como la única fuente de ingresos para el sindicato. En cambio las corporaciones no utilizan retenciones salariales para donaciones políticas. Así que la proposición 32 no impacta negativamente a las corporaciones si no a los sindicatos.
Los sindicatos han sido la fuerza política que ha logrado victorias como el obtener Seguro Social, Medicare, y fondos para la educación publica así como otros servicios sociales. No deje que las corporaciones y los ricos silencien las voces de los sindicatos!
Si en la Proposición 37! Acta del Derecho a Saber, Alimentos Genéticamente Modificados
El votar SI en la proposición 37: requeriría que los alimentos de venta en tiendas de comida, contengan una etiqueta indicando que han sido genéticamente producidos y prohibiría que estos alimentos sean etiquetados como "naturales."
Actualmente en supermercados a través del estado se venden alimentos sin ninguna clase de etiqueta indicando si han sido genéticamente modificados. Un alimento que ha sido genéticamente modificado es una planta, o un tipo de carne cuyo DNA ha sido artificialmente alterado en un laboratorio usando el DNA de otras plantas, animales, virus o bacteria.
Existen ya etiquetas con información alimenticia y con advertencias de alergias. Los consumidores tiene el derecho a tener la información sobre todos los ingredientes presentes en los alimentos que consumen.
La Ciudad de Richmond
Si a la Medida N & O
La medida N crearía una tarifa de la licencia de negocio de un centavo por cada onza en bebidas azucaradas que se venden dentro de los límites de la ciudad. Refrescos de dieta, leche y jugos que son 100% de fruta seria exentos del incremento.
La medida O aconseja al Concilio de la Cuidad usar los fondos de la Medida N en programas deportivos para los jóvenes, jardines escolares, y programas educativos sobre el tema de la salud.
Otras recomendaciones
No en la Proposición 31: Presupuesto Estatal de Dos Años
Establece un presupuesto estatal cada dos años y permite al Gobernador hacer cortes al presupuesto unilateralmente durante emergencias fiscales si la legislatura no toma acción. La proposición 31 permite a los gobiernos locales modificar como se aplican las leyes relacionadas con la financiación de programas del gobierno lo cual  incluiría  a servicios sociales y ambientales, al menos que la legislatura vete dichos cambios en un periodo de 60 días.
No la Proposición 33: Descuentos Persistentes de Seguros Automovilístico
Afectaría la protección al consumidor y forzaría aquellos que no tienen los recurso económicos, a pagar cuotas más altas de seguro de carro.
Si en la Propuesta 34!: Iniciativa para Eliminar la Pena de Muerte
Revoca la pena de muerte como sentencia máxima y requiere en vez una sentencia de cadena perpetua sin derecho a libertad condicional.
Neutral: Propuesta 35: Prohibición de Trafico Humano y Esclavitud Sexual
Nuestro análisis señala que la proposición 35 expande la definición del tráfico humano.  Esto significaría que miembros de familia  podrían ser sujetos a sentencias más largas y a otras penalidades.
Si en la Propuesta 36: Revisión a la regla de Tres Strikes
Ahorraría millones de dólares  que serian designados a la educación y prevención de crimen, y restauraría la intencion original de esta ley de mantener a los criminales más violentos tras las rejas.
No en La Proposición 38! Incremento de Impuestos Estatales para Apoyar la Educación
La proposición no apoya todos los gastos educativos y pone la carga de impuestos en las personas de bajos recursos y la clase trabajadora.
Si en la Proposición 40!: Redistribución de Distritos del Senado Estatal
Mantiene la responsabilidad de designar los distritos legislativos a un comité independiente en vez de a políticos con intereses propios.
*image by Presidency Maldives, flickr