Be a Champion for the Environment− Give Today

When you give a contribution to Communities for a Better Environment you help to:
Reduce pollution in overburden, low-income and communities of color
Prevent additional sources of pollution in already polluted areas
Develop community leaders
Advocate for a transition away from dirty fossil fuels to clean renewable energy
Create Green Zones in some of California's most polluted neighborhoods
You can help us build a much healthier environment in our fight against toxic polluters by making your tax-deductible gift online through our secure donation page, just click the "Donate Now" button (above). Your contribution will be applied where most urgently needed.Thank you so much for your generosity!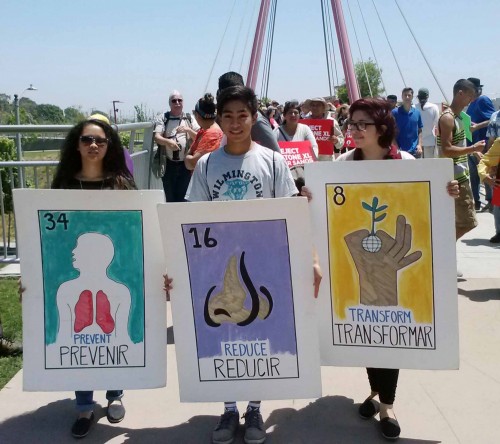 —-
FOR IMMEDIATE RELEASE
Communities for a Better Environment Joins the National #GivingTuesday Movement
Start the holiday season off right by giving to those most impacted by toxics and pollution!
 November 25, 2014. California- Communities for a Better Environment (CBE) has joined #GivingTuesday to transform how people think about, talk about and participate in the holiday giving season.  Coinciding with the Thanksgiving Holiday and the kickoff of holiday shopping, #GivingTuesday—On December 2, 2014—will inspire people to take collaborative action to improve their local communities by giving back.
We are living in a world where climate change is very real and if we do not take action for adaptation and resiliency, the outcomes will be very dangerous for thousands of people.  Communities populated with predominately low-income and people of color are the communities that need our help the most. On #GivingTuesday we need you to give what you can to support our work developing community leaders. CBE works with youth and adult residents that are surrounded by multiple sources of pollution in the City of Richmond in the Bay Area and the community of Wilmington, a neighborhood of the City of Los Angeles so that they can effectively advocate for a much healthier environment. "I have learned that everybody has the ability to make change in the world. So, embrace your identity and don't let the complexion of your skin, gender or age deter you from fighting injustices," says Juan Luis Rosales, CBE Youth for Environmental Justice member. Will you give to CBE this #GivingTuesday? We're counting on you! If you're interested in joining Communities for a Better Environment's #GivingTuesday initiative visit, CBE partners with #GivingTuesday. For more details about the #GivingTuesday movement, visit the #GivingTuesday website.
 —-
About Communities for a Better Environment (CBE) For over 35 years, CBE has been building people's power in California's communities of color and low-income communities to achieve environmental health and justice by preventing and reducing pollution and building green, healthy and sustainable communities and environments. CBE provides residents in blighted and heavily polluted urban communities in California with organizing skills, leadership training and legal, scientific and technical assistance, so that they can successfully confront threats to their health and well-being. About #GivingTuesday #GivingTuesday is a global movement to celebrate and provide incentives to give on December 2, 2014. This effort harnesses the collective power of a unique blend of partners— charities, families, businesses and individuals. #GivingTuesday will inspire people to take collaborative action to improve their local communities, give back in better, smarter ways to the charities and causes they celebrate and help create a better world. #GivingTuesday will harness the power of social media to create a global moment that is dedicated to giving.
Contact:


Sylvia Arredondo
Communities for a Better Environment
323.826.9771 x113
sylvia[at]cbecal.org