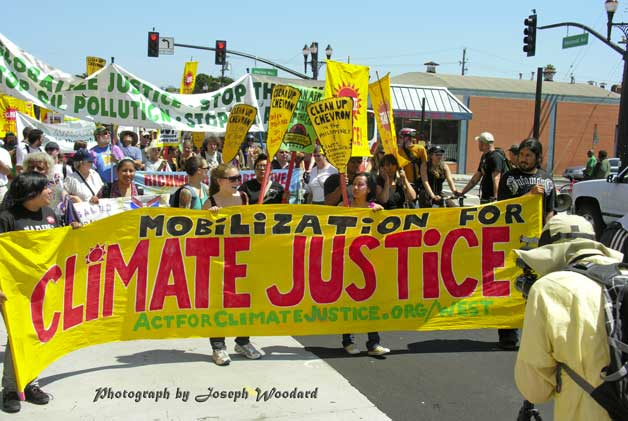 April 27, 2012
April 20, 2012, over 200 people took to the streets in a colorful Occupy Richmond Earth Day event to expose Chevron, one of the wealthiest corporations and biggest greenhouse gas emitter in the State of California. Leading with chants of "Whose streets, our streets," and "WE are the 99 percent," the march reminded us that this land belongs to all of us and at the same time none of us, yet Chevron's severe pollution constantly threatens and damages the air, water, earth and our health, especially that of African American, Latino/a, and Laotian residents who live near the huge Chevron refinery.
Speakers from Richmond Progressive Alliance, Alliance of Californians for Community Empowerment (ACCE), Mayor McLaughlin, Bay Area Occupy Movement, CBE organizer Jessica Tovar and CBE community member, Marlene Quintz, spoke out about Chevron's pollution and greed. Chevron recently claimed that it had overpaid property taxes to the City of Richmond and wanted $79 million returned. This would have caused massive cuts in city services. An appeals board, however, determined that the property value of the refinery was even greater than previously assessed. Instead of the city owing Chevron millions of dollars, Chevron owes Richmond approximately 27 million dollars.
CBE organizer Jessica Tovar highlighted that, "Chevron is adding insult to injury by profiting off the health of the Richmond community and then suing the city for a tax refund of millions of dollars that could be used to better serve the community. Chevron needs to drop their tax lawsuits and clean up their act on all fronts!" Chevron and the 1 percent are feeling the pressure for justice and change in Richmond.